Vice Sports expands to Canada
The vertical is the latest launch from the media co in Canada.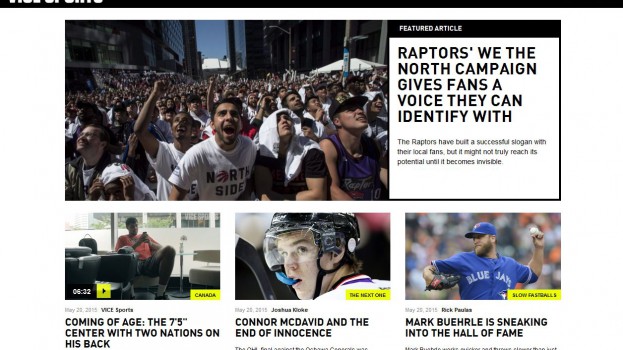 Vice has further expanded its content in Canada, introducing Vice Sports Canada to the market.
Daily video and written content will be added to the site by recently hired editor Chris Toman, who will be creating and managing content.  The site is aiming to differentiate itself from other sports sites in the market by focusing on long-term, in-depth content, says Toman.
Shawn Phelan, SVP of sales for Vice Canada, says advertising opportunities on the site veer more towards the branded and sponsored-content opportunities that he says the media company is known for, than banner ads and pre-roll spots.
Vice Sports launched in the U.S. last June, and has since launched six original video series covering issues in sports like painkiller abuse, concussions in football, as well as interviews with sports stars. The vertical won a Webby Award last year in the U.S., beating ESPN and Bleacher Report.
During its soft launch, Vice Sports Canada ran a campaign with Mad Jack during NCAA March Madness, that was arranged by MEC. Vice Sports Canada sent reporters down to Kentucky and North Carolina to document the rivalries between school teams like Duke and the University of North Carolina, and show their "mad" passion for the sport.
Last month Vice Canada unveiled Daily Vice, a daily news and culture show that will be available exclusively to Fido customers.