CTV adds drama with U.S. acquisitions
The channel has announced the addition of four U.S. dramas for fall, also landing variety show Best Time Ever and Sleepy Hollow for CTV Two (Blindspot pictured).
How is it upfront season already? Seems not so long ago that the Canadian industry was "talk"-ing about TV, and now CTV has released its slate of U.S. acquisitions for the 2015/16 season.
The broadcaster is going heavy on drama for the upcoming year, picking up Quantico, Blindspot, Code Black and Oil for CTV, and the variety show Best Time Ever with Neil Patrick Harris and Sleepy Hollow for CTV Two.
Joining CTV at mid-season will be The Catch, Lucifer and DC's Legends of Tomorrow.
Quantico follows a group of recruits at the FBI Quantico Base for training, with one of them suspected of plotting the biggest attack on New York City since 9/11.
Blindspot stars Sullivan Stapleton (300: Rise of an Empire), Jaimie Alexander (Thor) and Oscar nominee Marianne Jean-Baptiste (Without a Trace) in a drama about a Jane Doe found in Times Square naked with no memory, but a series of cryptic tattoos on her body.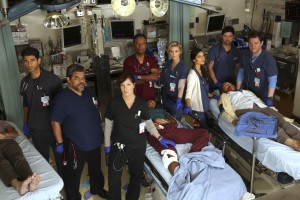 New medical drama Code Black (pictured left) stars The Newsroom's Marcia Gay Harden as an L.A. country hospital doctor training a group of new doctors in her aggressive style of medicine.
Oil stars Don Johnson as a ruthless tycoon who forces two newcomers to the city, played by Chace Crawford (Gossip Girl) and Rebecca Rittenhouse (Philadelphia), who dream of striking it rich after the biggest oil discovery in American history.
Joining CTV Two is the variety show Best Time Ever with Neil Patrick Harris, which is based on the hit U.K. show, Ant & Dek's Saturday Night Takeaway. The broadcaster has also picked up Sleepy Hollow, which aired its first two seasons on Global.
At mid-season, CTV will be adding DC's Legends of Tomorrow, which follows Rip Hunter as a time traveller tasked with assembling a group of heroes and villains to stop a threat on the planet.
Also joining the channel is Lucifer, about the original fallen angel, who has resigned his throne and retired to Los Angeles, where he owns an upscale bar called Lux. He is enjoying the finer things in life when a pop star is murdered right outside his bar.
Last on the list of acquisitions is The Catch, a new drama from Shonda Rhimes (How to Get Away with Murder, Scandal), about a fraud investigator who's about to be defrauded by her fiancé.