Google introduces shoppable ads on YouTube
The company has introduced TrueView for Shopping, which aims to connect brands more directly with consumers.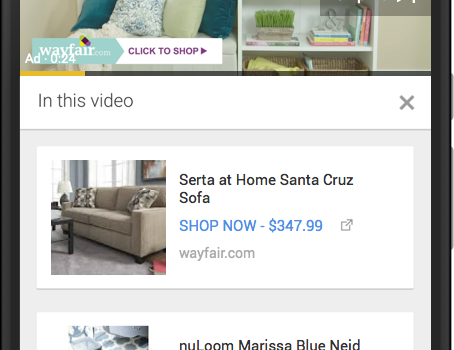 Google has added capacity to it's TrueView product that will simplify shopping on YouTube. To reduce the gap between products viewed online and the ability to purchase those products, the company has launched Trueview for Shopping, which will allow advertisers to connect more directly with consumers.
TrueView for Shopping is about recognizing new opportunities in mobile advertising, according to Sridhar Ramaswamy, SVP of ads and commerce at Google, who describes these opportunities as "micro-targeting moments," the times when people are ready to act on their intentions, whether it is to do something, know something, or buy something.
Google's new product is a result of extensive research at the company that indicates "a fundamental change in the way people consume media," writes Ramaswamy, who urges advertisers to keep pace with the myriad of ways – multiple screens and in short bursts of activity through the day – in which users absorb information.
The company's research reveals that there is a significant – 50% – growth rate in video reviews of products, and more than one million channels on YouTube dedicated to providing product reviews.There was also a link between reviews and purchases. Google conducted a study of 800 ad campaigns and discovered that 65% of brands on YouTube observed a 13% increase in Google searches for their product after the review was viewed.
Last month YouTube introduced interactive cards to TrueView ads. And the company has now opened up access to retailers to use those cards to provide product information, reviews and a clickable link that will take them to the retailer's website so they can purchase that product.
The latest update will be available for TrueView in-stream video ads that are built on Google's cards platform, and offer retailers the option to add images, reviews, and access to buy. The ad doesn't yet have the capacity for direct purchase, but advertisers will be able to use YouTube's standard ad-targeting mechanisms, as well as targeting users who have checked out that product on their site.
Ads will still have a skippable option. They will play for five seconds before giving viewers a chance to disengage.