Instagram high on inaugural Canadian ad rollout
The image-centric platform has rolled out its first advertising results, with Canadian Tire seeing an ad recall boost of 45%.
If you care about your neighbour, you'll make the effort to haul your shovel over to their driveway and make a nice, clean path for them. That was the message of "Shovel It Forward," a two-week long Canadian Tire video ad campaign on Instagram this March.
Instagram launched an ad-campaign roll out in Canada in November last year, and has now announced the results of some of those campaigns. Canadian brands such as Air Canada, Canadian Tire, A&W, Scotiabank  and international brands like L'Oreal Paris were among the first to experiment with a social media campaign on the platform, which is used by 300 million users worldwide every day.
To help advertisers make sense of Instagram's advertising opportunities, the company runs a blog titled Instagram for Business, helping brands to understand monetizing opportunities on their platform.
Facebook-owned Instagram partnered with Nielsen Brand Effect to measure the impact the campaigns had on each marketers' business. The surveys measure reach, ad-recall and brand awareness over social metrics such as likes and comments.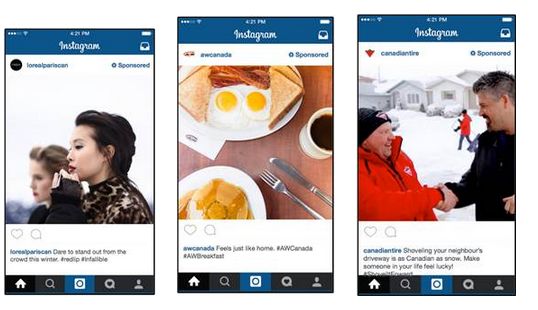 Instagram has been cautious  in rolling out advertising on its platform, working with brands that want to reach large audiences using visually memorable content. The company's blog says it wants to match its users and its brands as they "capture a moment, inspire others, or shift perceptions."
Canadian Tire, for instance, was targeting 25- to 34-year-olds with its campaign encouraging  Canadians to embrace winter through random kind acts bringing winter relief. The campaign resulted in a 45-point lift in ad recall and an 18-point lift in campaign awareness.
A&W used images on Instagram to launch its "Better Burger Experience" campaign targeting adults. The better experience included meals on china plates, stainless steel kitchen counters, interspersed with classic A&W images of its root beer in frosted mugs and its most popular menu options. The campaign resulted in a 39-point hike in ad recall for the company.
"We were impressed with Instagram's ability to increase brand awareness in such a short period of time. We learned that visual story telling is a powerful driver for building message association," said Julia Cutt, assistant marketing manager, social media, at A&W.
Air Canada – with its vast network of travel destinations – was also a natural fit for Instagram's ad roll-out, and it ran two campaigns on the platform. Its image campaign, "AC Hearts – We Heart New Destinations," showed snapshots of Panama, Rio de Janeiro, and Mont-Tremblant, all three new destinations for its service. The Nielsen study shows that it, too, benefited from the campaign with a 29-point lift in ad recall.