Ubisoft and SickKids win big at the AToMiC Awards
The brands and their agencies, Publicis and JWT, took home top honours at last night's award show.
This story appears in the June 2015 issue of strategy.
Strike an atom with a neutron? Prepare for a big bang. Put marketing, media and production bodies in the same room and you can count on an (equally fiery) explosion of ideas.
The AToMiC Awards, hosted last night at Toronto's Berkeley Church, celebrate breakthrough achievements in the realm of advertising and media creativity, technology and content. There were two Grand Prix awards – one Commercial and one Cause – going to Ubisoft for its "Watch_Dogs Live" interactive program, and SickKids for its "Better Tomorrows" campaign. Both were immersive programs that put people in the middle of the action, in ways they had never done before, taking advantage of the latest tech and real-time engagement. Ubisoft picked up the most awards of the night, with eight others – five Golds and three Silvers. The SickKids campaign also took home four Golds and a Bronze.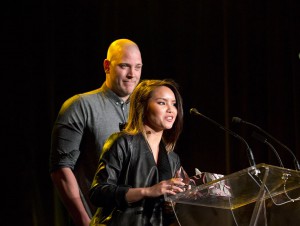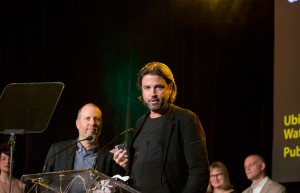 Leo Burnett also had a strong showing at the awards, taking home a Gold and a Silver for its Always "Like a Girl" campaign, as well as a Gold for Ikea "Inspiration Boxes." Other Gold winners included General Mills for "The Cheerios Effect" with agency Cossette (which also won Bronze); Historica Canada and Rethink for "The Memory Project"; Kraft and Taxi for "Mio POV" (which also won a Silver).
In total, 49 awards were handed out, with 15 Golds, 16 Silvers and 16 Bronze.
The AToMiC Awards were developed by strategy in consultation with a pan-industry advisory board to identify the ideas and programs across Canada's mediascape – from networks and prodcos to agencies and brands – that break new ground. The result is a curation of collaborative work that a diverse jury of digital, TV, agency and marketing execs believe show the way forward with new ways to engage audiences.
While the judges gave these brands top marks for their bravery to disrupt traditional thinking, the winners include some ideas that should be a shoe-in for Canada on the global creativity stage. We've also highlighted which winners were chosen as Cannes Lions contenders by industry pundits.
Read about the cases, and which trends they speak to, in the stories below:
Documenting life in another's shoes
Images by Ryan Walker: (left) JWT's Mike DeCandido and Cindy Marie Habana, (right) Tim Kavander and Nicolas Massey from Publicis