Bell extends CFL contract to 2021
TSN and RDS renew exclusive broadcast rights for CFL, while Bell launches a new all-sports radio station in Hamilton.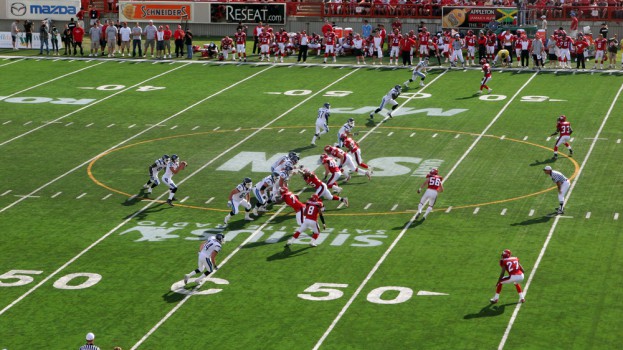 Bell Media has more football coming to its screens, extending its partnership with the Canadian Football League (CFL) on TSN and RDS through 2021.
CFL commissioner Jeffrey L. Orridge, announced the news at the annual #InsideTheCFL event at the Muzik nightclub in Toronto today. As before, Bell's TSN and RDS will hold exclusive rights to all CFL games under the terms of the extension. This includes coverage of pre-season, regular season, playoffs and the Grey Cup. Under the deal Bell Media's Grey Cup Radio Network also picked up exclusive radio rights to the Grey Cup.
The current contract would have expired at the close of the 2018 season.
#InsideTheCFL was attended by CFL 's leadership as well as Argos' players Ricky Foley and Matt Black and Tiger-Cats players Brian Bulcke and Andy Fantuz.
TSN and Bell Media also announced the launch of an all-sports radio station in Hamilton, an extension of its TSN Radio network (TSN Radio 1150 Hamilton). The media company has also launched a partnership with the Hamilton Tiger-Cats, and will broadcast every Tiger-Cats game on AM 1150.
"Hamilton sports fans are passionate and knowledgeable, and there is no better way to celebrate the addition of TSN Radio 1150 in Hamilton than to become the home of their pride and job, the Hamilton Tiger-Cats," said Robert Gray, national program director, TSN Radio.
TSN Radio  is currently broadcast in six other major Canadian cities: Toronto, Montreal, Ottawa, Winnipeg, Edmonton and Vancouver.
TSN and RDS have been long time CFL partners. TSN's first CFL broadcast was in 1986; RDS' was in 1989. Since 2008, both channels negotiated exclusive rights to the CFL, and later extended those to include the Grey Cup.
Last week Bell Canada and and Larry Tanenbaum's Kilmer Group announced they were acquiring the Toronto Argonauts from entrepreneur David Braley.
Image courtesy of Shutterstock