Upfronts 2015: CTV doesn't mess with what's working
The channel is adding a total of four series on three nights, with high-rating lead-ins for each of the new programs.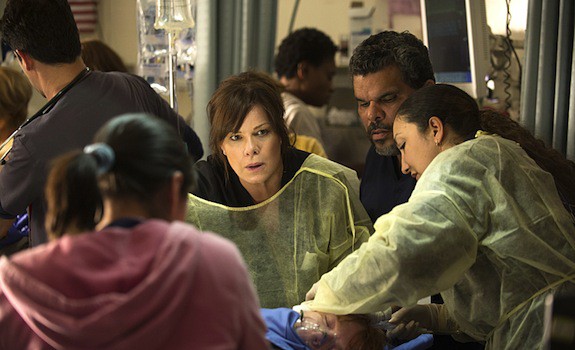 With 16 shows in the top 20 most-watched conventional programs for the 2014/15 season, and a number of returning shows, CTV didn't have many adjustments to make heading into this year's L.A. Screenings.
As previously announced, the channel picked up a total of four new shows for CTV's fall season, and has placed them on three nights throughout the week.
Kicking off the new programming is Blindspot on Monday at 9 p.m., airing out of simulcast. The drama, which will have Gotham as a lead-in, is about a "Jane Doe" found in Times Square naked with no memory, but a series of cryptic tattoos on her body.
Airing Wednesdays following Criminal Minds is new medical drama Code Black in simulcast with the U.S. The show, which airs at 10 p.m., stars The Newsroom's Marcia Gay Harden as an L.A. country hospital doctor training a group of new doctors in her aggressive style of medicine.
Once Upon a Time is being followed by two new dramas on Sunday night: Blood and Oil and Quantico, both airing in simulcast. Blood and Oil, formerly called Oil during the U.S. upfronts, stars Don Johnson as a ruthless tycoon who forces two newcomers to the city, played by Chace Crawford (Gossip Girl) and Rebecca Rittenhouse (Philadelphia), who dream of striking it rich after the biggest oil discovery in American history. Quantico follows a group of recruits at the FBI Quantico Base for training, with one of them suspected of plotting the biggest attack on New York City since 9/11.
CTV Two has picked up two new programs, airing Best Night Ever with Neil Patrick Harris in simulcast on Tuesdays at 10 p.m. It follows Reign at 9 p.m. And the third season of Sleepy Hollow moves to CTV Two from Global, airing Thursdays at 9 p.m., with The Vampire Diaries leading in.