Newad and Zoom Media swap and refocus
The indoor advertising cos have exchanged properties to enhance targeted offerings to brands.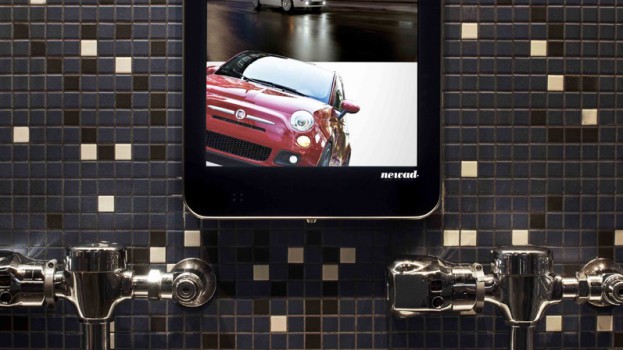 Two Canadian indoor advertising cos have swapped properties in a move to strengthen their targeted offerings to advertisers, as well as their hold on selective markets. On Monday morning Newad and Zoom Media penned an agreement under which Newad has picked up six of Zoom Media's networks, including restobars, fashion, business and golf, while Zoom Media has acquired all of Newads' fitness properties.
The move came after three year-long discussions between Michael Reha, CEO of Newad and  François de Gaspé Beaubien, CEO of Zoom Media. In the highly competitive landscape of OOH advertising, the two decided to build on the strengths of their individual companies. "We thought it was a good for both of us to focus on our core businesses," Reha told MiC.
With the swap, Newad added 17,000 advertising spaces to its tally, which now totals 45,000 faces across 5,000 locations. Reha says that these collectively deliver 280 million monthly impressions. Newad added some 1,000 digital properties,  doubling its previous capacity of digital boards on offer for restobar advertising. "By consolidating our business, it has given us a stronger presence in every market, and a bigger presence than ever before in Quebec," says Reha. The acquisition of Zoom Media properties also expanded Newad's access to advertising space on Quebec's campus properties.
Brands have been pushing for a more simplified OOH buying process, according to Reha, in order to reach their specific markets in a more precise and targeted way.
Meanwhile, Zoom Media has expanded its fitness network across the country and now has 5,500 digital and static boards spread across 750 gyms. De Gaspé Beaubien says that it delivers 25 million monthly impressions. "Our focus as a company is fitness and this transaction strengthens our leadership position in this network in Canada" said de Gaspé Beaubien. The company  has 1,500 digital screens, which it says, delivers 15 million digital monthly impressions.
Reha believes that Newad can now compete more equally with the big industry players, like Astral, Pattison and Outfront,  and plans to expand the company's digital ad offerings to continue to reach the "young and affluent" market. By 2017, the company hopes to have 4,000 digital screens across Canada.
The company's digital fleet is currently exclusively available to the restobar space, but there are plans to expand it to the campus and business markets.
As part of the deal, Newad has also absorbed the business and human resources of Zoom Media's Quebec offices.
Image courtesy of Shutterstock