Play Money Media rebrands as Connected Interactive
The media co's name change is part of an effort to extend its mobile gaming expertise to big brands.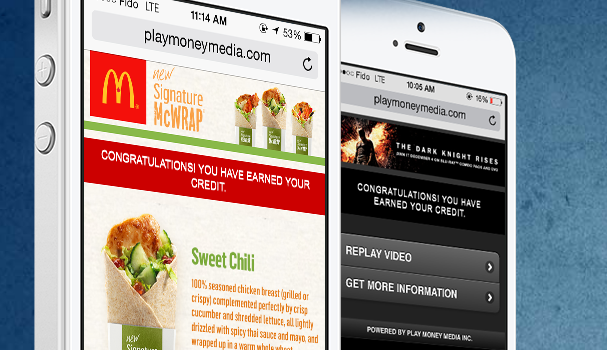 To broaden its reach to access bigger, more mainstream brands, Toronto-based gaming advertising company Play Money Media has rebranded as Connected Interactive, with the message that it has evolved into a mobile-centric advertising company focusing both on gamers and on expanding its reach to other categories such as entertainment, news and sports.
"Everyone used to be playing on Facebook but then everything started to move in-mobile," says Noel Geer, CEO of the new Connected Interactive, and also of the former Play Money Media. "We have moved with the transition." The company still works with desktop, but the bulk of its work now focuses on helping advertisers engage with gamers in-app.
The rebranding was also designed to address an issue the company was having with confusion about the services it offers: "Some people asked us if we were a gambling company," Geer says with a laugh. "Fun names work in the agency world…there are a lot of companies with crazy names. But when you're dealing with big brands, they see a name and they can get confused."
Geer believes that Connected Interactive has expertise and experience in mobile because gamers made an earlier transition to apps on mobile. "In the game development world, they've been doing in-app on mobile for a while but its new to the brand economy. We know the publishers that drive this type of acquisition, and we know how to optimize it."
The company has 500,000 apps across devices with categories for engagement and specific knowledge to build performance-based custom campaigns around gaming.
Connected Interactive focuses on three areas: performance-based awareness (with its proprietary dashboard and third-party tracking), engagement through interactive campaigns and acquisitions. Last Christmas the company earned 1,500 app installs for Yellow Pages app in comparison with Facebook's 150 installs, according to Geer.
Play Money Media began operations in 2011 as a company that used a carrot-on-a-stick approach, encouraging brand engagement with gamers through game credits.
"Everything we did in that first year was in social and mobile gaming," says Geer.
For instance, if a gamer was playing Farmville and he or she ran out of credits, the gamer would respond to an ad that asked a personal question: do you have a cat or a dog as a pet, for example. Based on the response, the gamer would then be asked what kind of food his or her pet consumed, and would then see an ad that would engage the gamer with a pet food brand. In exchange for this engagement, the respondent's Farmville app would be topped up with some points. 
The newly branded company has expanded beyond Canada, and has offices in Mexico and Rio de Janeiro. It has also entered into a partnership with J Squared Montreal and will soon be opening an office in Dubai to reach middle eastern markets.