TSN looks to bolster Thursdays with CFL
TSN is tweaking its approach to football promotion, targeting millennials and focusing on the lifestyle aspect of the sport.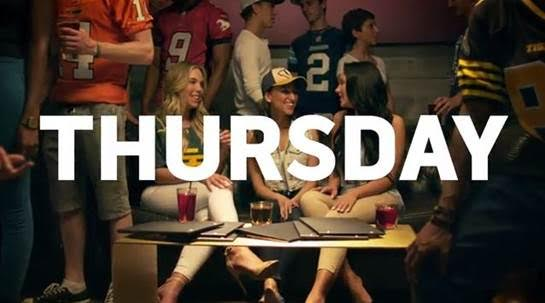 Music from Canadian bands and fan-inspired segments are part of what TSN is offering with its rebranding of Thursday night football starting June 25 with the slogan "the best new night of your week."

TSN released its new CFL programming promotional campaign today, focusing heavily on the experience around football: group gatherings, good food, drink and company. Targeting millennial viewers, the promo was created by Bell's in-house media team. 
The branding is linked to CFL's strategy to mimic the in-stadium experience for its television audience. Stadiums are already being built or remodelled to include large open patio spaces where people can meet, socialize and watch the game.
To recreate that, TSN is presenting Thursday nights with a mix of pre-show and in-show segments giving fans a behind-the-scenes view of the game, and developing a strong social media presence that includes all the social media platforms. Fans will be able to see teams up close and personal, as they are getting ready as well as fans coming into the stands through the use of Snapchat, Instagram and Twitter.
CFL is popular with millennial audiences, says Christina Litz, VP, broadcast and media assets at CFL, who says that the CFL ranks number two in ratings for this audience, after NHL. With Thursday nights, however, the CFL will be finding ways to integrate that audience into the football experience. "It's actually about recognizing that [millennials] are a significant part of the game and that they experience it differently."
Kate McKenna, a social media sports TV personality, will host Now You Know, a segment that will cover special reports and news about the league, while TSN personality Cabral "Cabbie" Richards will introduce viewers to the league's most interesting players during a pre-game segment.
On TV, CFL is launching with new features including animations and branding elements in an effort to give the sport a unique feel. Pre-game and in-game broadcasts will include music segments as well as behind-the-scenes segments.
There will also be a Thursday night football social media hub that will cross-post fan reactions on CFL and TSN's platforms. "I wanted to make sure that we are highlighting the emphasis on social media [to millennials]," says Litz, adding that Instagram, Snapcat and Twitter will be the focus.

Next week, the CFL will have a fan takeover of its Twitter handle aimed at including fans in the league experience by bringing their point of view of the game.
The announcement follows after Bell Media officially extended its coverage of the CFL through 2021 at the end of May.
The opening game on June 25 is between Ottawa and Montreal.