How Bell Media's roadblock strategy fared for the MMVAs
TV viewership dipped from last year but live-streamed to an all-time high.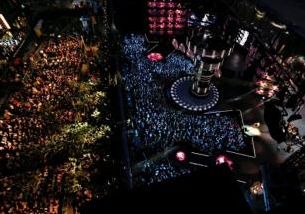 This year, Bell Media went all out for its broadcast of the 2015 Much Music Video Awards, airing the program on Much, CTV, CTV Two, MTV, M3 and MTV2.
The multi-channel roadblock was an expansion of Bell Media's 2014 strategy for Much's flagship live event, which saw it and CTV air the show simultaneously for the first time. Overall, the 2015 broadcast brought in an average audience of 785,000, lower than the just over one million that watched the show live on Much and MTV last year, according to Numeris data provided by Bell Media.
Last year's MMVAs broadcast was the second-most watched in the history of Bell Media, the most-watched edition was in 2011, when 1,048,000 viewers tuned into the program on Much.

The 2015 MMVAs had a total viewership of 3.2 million tuning in to watch at least part of the show. Encore broadcasts boosted that number to 4.4 million viewers.
The awards show is the most-watched to date this year on Much online, with more than 155,000 video starts of MMVA content, and almost 28,000 hours of viewing on June 21 when the show aired. The show is the second-most live-streamed event of the year for Bell Media, behind the Oscars.
In all, the 2015 MMVAs had two billion social media impressions, with interactions across Facebook, Twitter, Vine, Tumblr, Instagram, Snapchat and Periscope.
Playing large during this year's MMVAs was the channel's MCN, Much Digital Studios (MDS), which had its own launch timed earlier this spring so that it could be promoted during the flagship award show. That included pieces like MDS personality JusReign hosting the red carpet show, and creators generating content for Much and their own channels backstage during the MMVAs broadcast.
"Much Digital Studios is what we are working to build 52 weeks of the year," says Dave Caporicci, managing director, brand partnerships, Bell Media. "I think we can do it better than anyone else because we have a linear TV channel, our assets and the legitimate youth brand. Much Digital Studios is our single biggest priority right now."
The official sponsors of the 2015 MMVAs were Bud Lime-A-Ritas, Coca-Cola, Procter & Gamble, Subway Restaurants and Virgin Mobile Canada.