Beam me up, Spotify
The Kentucky bourbon brand has teamed up with Spotify to reach music-lovers through an emerging talent competition.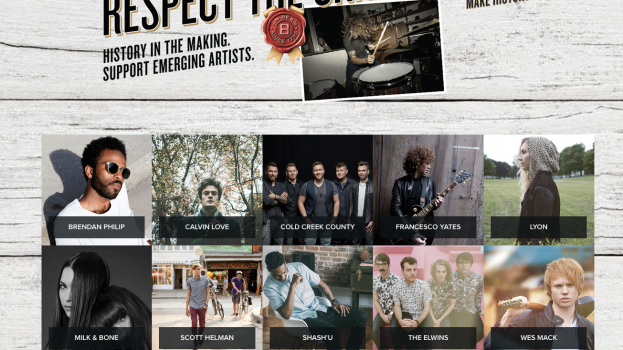 The new music producer in town takes the shape of a bourbon bottle. Partnering with music platform Spotify, the Kentucky bourbon brand Jim Beam is reaching a younger demo by co-sponsoring an emerging musician competition in Canada.
Starcom Mediavest Group is handling media on the campaign, while Toronto-based Sebastian Consultancy developed the creative. Toronto-based Matchstick is the social media marketing agency and Praxis is handling the campaign's PR.
The competition, which launched today in Canada, is part of Spotify's global Emerge campaign, in which 13 young Canadian artists will compete against one another as the platforms' users choose the final winner.
The 13 have been selected based on how many listeners engaged with their stream, and weekly shares of their music, as revealed through Spotify's data insights. Canadian listeners will choose the best of the lot depending on which artist gets the most listens, likes votes and shares. 
Jim Beam consumers in Canada traditionally skew a little older, says Randy Carelli, SVP, group account director at Starcom. The campaign was aimed at connecting the Canadian 19-to-29 demo with the bourbon brand, which is owned by U.S.-based Beam Suntory. 
The 13 musicians have 12 weeks to sell their music to the voting audience. The spirits brand is using that period to reach viewers through a stand-alone branded page with artist interviews, bios and interesting facts. Jim Beam has tagged this to its global Make History campaign with the hashtag #MakeHistory, but its Spotify partnership is specific to Canada. 
The campaign also includes homepage takeover, 30-second audio spots as well as leaderboard, billboard and custom microsite.
This is the first time that the brand has partnered with Spotify. "It is an emerging platform that is doing gangbusters in Canada," says Carelli. "There is potential for this to go evergreen.  [Spotify] is social, and its important for this demographic." 
In order to gauge the possibility of future collaborations, Beam Suntory will be looking at Spotify-provided research on the impact of the campaign in terms of brand engagement and reach through the music platform's data capturing technology through the period of the campaign.
The bourbon brand's consumer is also an enthusiastic music listener, according to Rob Tucker, senior brand manager, Beam Suntory Canada. The campaign will allow Jim Beam to connect music lovers with up-and-coming Canadian talent.
The 13 Canadian musicians are from Toronto, Montreal, Brighton, Calgary, Kewsick and Edmonton.
This is not the first time that Spotify has run the Emerge campaign. Current global celebrities who emerged from this program in previous years include Macklemore & Ryan Lewis, Sam Hunt, alt-J and Lorde. Emerge is running for the first time in Canada.