Challengers rise to YouTube's game
Facebook is one of several companies investing in the development of video ad models to lure content creators and brands into their space.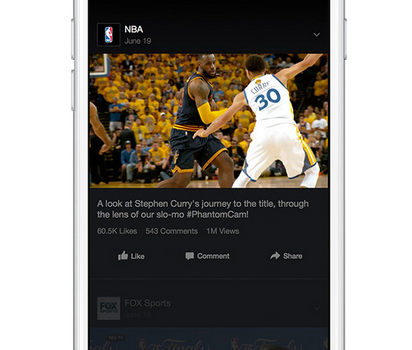 The magic wore off at midnight for Cinderella. Things are not quite as dramatic for YouTube's video ad business, which has dominated the online space for some time now. But established and new players are entering the game, and offering richer rewards to content partners to upload elsewhere.
Take Facebook, for example, which recently announced that it will give video creators a share of revenue generated by ads that display as pre-roll or during a creator's video.
Facebook's video potential exploded last year with the ALS ice-bucket challenge, which sparked massive amounts of video sharing on the platform. Since the challenge was peer-to-peer – and arguably quite personal given the water and the t-shirts/bathing suits - Facebook found itself a more suitable platform than YouTube's mass and impersonal reach. Its success awakened the company – and media buyers – to the platform's ad potential in video.
"Prior to the ice bucket challenge, Facebook would not come to mind (for media buys in video)," says Sean Dixon, director, emerging media at Ignition Factory, OMD Canada. "But as consumer habits have shifted, and there are more opportunities on Facebook, I think there is great potential because of its huge user base and ability to distribute content."
One year later, new products are starting to roll out.
One of those is Suggested Videos, which "helps people discover more videos similar to the ones they enjoy," according to a Facebook spokesperson. "Within suggested videos, we are running a monetization test where we will show feed-style video ads and share revenue with a group of media companies and video creators."
The social media platform's suggested videos section is currently being tested and is not expected to be available for general advertising for several months. The revenue split is 55:45 in favour of the content creator but that amount changes depending on how much time a viewer spent with the content, and it can be split among multiple creators if only one ad is presented alongside two or three videos. YouTube also runs a Partner Program through which it shares ad revenue with content creators with a similar 55:45 split.
Still, Facebook has a 1.4 billion user community, a little larger than YouTube's collective audience of one billion. The company is currently testing the suggested video section during a non-revenue generating phase. It is working with a select group of media companies – including the NBA and Fox Sports – and content creators to test run and tweak the feed before opening it up to others.
Video content platforms are competing to get large-fan-base original content on their sites. Some creators on YouTube already have Facebook accounts and a share of ad revenue may encourage them to post their videos on Facebook as well.
Details around Facebook's ad-revenue model are not yet clear. They may yet go with the reported Snapchat model of asking big brands to fork out $750,000 for each ad.
Despite these changes, the situation isn't exactly dire for YouTube, says Dixon, noting that platforms serve marketers and advertisers differently. "They're not at war with each other."
Facebook is YouTube's biggest potential competitor, but it's not the only disruptor. At the start of this year, Twitter launched native video in its hunt for celebs creating content and tweeting to fan bases.
Recently NPR reported on how YouTube stars were beginning to upload video content on different sites to maximize revenue opportunities. Anna Akana's YouTube channel, for instance, has 1.2 million subscribers but has started uploading her content onto another video platform, Vessel. There, subscribers pay $3 per month to access content on Akana's channel, which she uploads three days earlier than she does on her YouTube channel, and she gets much more in revenue than she ever sees on YouTube.

Video ads are not entirely new to Facebook. A year ago, the company started running autoplay video ads. However, buyers were not see return on investment as clearly as on YouTube since autoplay ads were not linked to creators videos, nor were creators able to enjoy the financial benefits of uploading on Facebook.
The company has been versatile in adapting to changing consumption habits. Today mobile ads make up 69% of the platform's total ad revenue. Yet, three years ago it had barely embraced mobile.
Things move fast in digital, and while Facebook tries out its new videos feed, tweaking and fine-tuning it so it can launch to brands' applause, its remains to be seen if YouTube is altering its revenue model to keep its core creative community satisfied.