Conrad Black blasts Godfrey in Postmedia investor call
The former media baron gave Paul Godfrey, his friend of 40 years, an earful during Postmedia's quarterly conference call.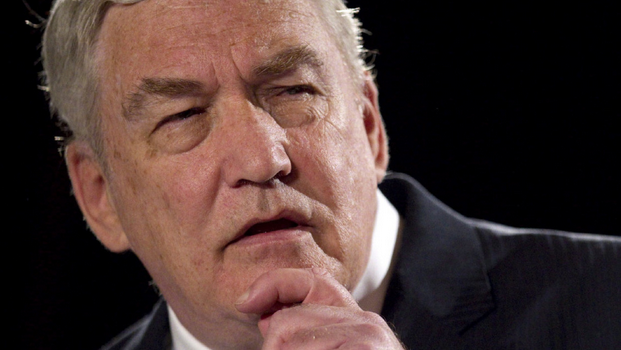 By Val Maloney and Sonya Fatah
Conrad Black, former media baron and head of the now-defunct media company Hollinger Inc., which published papers including the British newspaper the Daily Telegraph, the Jerusalem Post and National Post, joined yesterday's third quarter conference call to issue some frank comments to Postmedia CEO Paul Godfrey and CFO Doug Lamb.
While congratulating Godfrey on the speed at which Postmedia has cut costs and saying he is supportive of Godfrey and his team, Black said the executives should also be paying attention to the quality of its products, which he noted "have deteriorated a long way from what I remember."
"Some of it you can't avoid and some of it you can but please build the quality otherwise you're going to retreat right into your end zone, pardon the sports metaphor," he said.
The comments came following yesterday morning's fiscal third quarter financial release, the first from the company to include its new Sun Media assets.
The media co reported a net loss of $140.8 million for its fiscal third quarter, a significantly larger decline than the $20.6 million loss posted in the same period last year. The company attributes the severity of the drop to a $151.2 million non-cash impairment charge largely related to goodwill and intangible assets from the acquisition of Sun Media's English print and digital assets this spring.
There were substantial decreases in both print advertising revenue ($19.1 million) and circulation revenue for print ($3.2 million). Digital ad revenue also declined by $0.9 million during the period.
Black has been advocating against severe cost-cutting measures in the newspaper business and penned a column in the National Post emphasizing the need to improve content quality as well as change brand view of newspapers as obsolete and catering only to an aging population.
Black said his call was a result of his concern as a shareholder and on behalf of shareholders, even though he had publicly supported the takeover of Sun properties. "I thought it was imaginatively conceived and well executed but the fact is you rolled the cannon up to the cheekbone of the investors and gave them the choice between doubling down two and a half times the current value of the share, which has declined a lot in the last two years, to increase their shareholding by increasing their rights or take an 85% dilution."
The result, Black argued, is that shareholders are stuck with an illiquid stock. He also suggested that management wasn't doing its job to give shareholders a sense of security, especially since increasing liquidity "is not a complicated thing and anyone in the financial industry knows how to do it."
Black's Thursday afternoon intervention is interesting considering his own history with the company. In 2007, a U.S. court convicted him of wire fraud – specifically fraud around a complex web of non-competition payments and on one count of obstruction of justice – while he was heading Hollinger Inc. He was sentenced to six-and-a-half years in prison but the sentence was reduced after two of the three fraud convictions were dismissed by another court. The entire proceedings ended with the dismantling of the holding company.
Black was fined $125,000 and served 37 months in a Florida prison.
"I care very much about these assets, have nothing but high regard for you and your colleagues, but I am worried that we have our feet stuck in cement here," said Black. "What relief can you give us?"
Replying in a low voice, Godfrey noted that his management team considers the quality of its product to be a "very important asset." He said the Sun Media brands hadn't received that same attention prior to Postmedia taking them over, and noted Black should contact people at those brands now and "see what we have already done to improve the quality of those newspapers."
Godfrey said that while he and Black don't necessarily have the same path in mind for Postmedia's brands, they do have the same goals.
Investors on the call also questioned Godfrey on the status of Postmedia's digital properties. Godfrey said the acquisition of Sun Media's English digital properties have bumped the media co to number one in news and information in Canada, with 11.8 million unique visitors in May, according to comScore numbers from Postmedia.
He put emphasis on optimism for the future growth of Canoe, which he said hasn't been paid much attention at Sun Media for the past few years. Postmedia wouldn't release numbers for Canoe.com.