Mobile-only audiences on the rise: report
Canadians are most likely to do their banking online while Americans consume more weather and health on mobile, according to a recent comScore report.
Canadians spent almost half their time on desktop and just over 50% on mobile, according to comScore's "Global Mobile Report," which looks at comparisons among multi-platform digital audiences in Canada, the U.S. and the U.K.
The report is based on comScore data using the company's audience measurement tool MMX Multi-Platform, which combines panel and census tag data for enhancement measurement. The report uses deduplicated reporting – meaning it counts users who visit multiple platforms of one site only once – to collect data on digital audiences across desktop, smartphones and tablets. Social media apps accounted for most online time-spent in the U.S. (57%), Canada (47%) and the U.K. (47%).

Adam Lella, one of the report's authors, says he was surprised by the results. "One chart I found to be particularly interesting…shows that nearly half of the average top 100 media property's audience in the U.S. and U.K. only visits via mobile. This shows just how important mobile has become in these countries."
While Canada's mobile-only audience was less than that of the U.K. and the U.S., 34% of the country's top 100 digital media property's audience only visit their site through mobile, a number that suggests that publishers focus on optimizing mobile experience for their audience.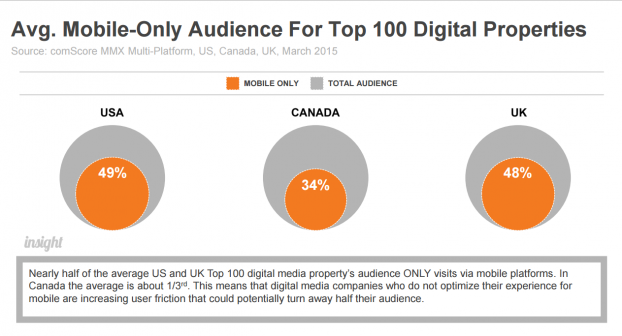 Google, Facebook and Microsoft sites were the top three digital media properties in Canada with 28.5 million unique visitors on Google, 25 million unique visitors on Facebook, and 24.8 million unique visitors on Microsoft sites. Google was tops in all three markets. Meanwhile, Snapchat tops the list of the top 100 companies that drive consumer traffic only through mobile, carrying 97% of its total digital audience through that platform.
Save a few significant differences, digital consumer behaviour shows that all three markets are mobile-first markets with millennials' consumption of content on smartphones the most significant part of the move towards mobile. Millennials in Canada make up 40% of the country's total digital audience compared with 37% in the U.S. and 39% in the U.K. However, only 16% of the total Canadian digital audience is in the 55-plus bracket, compared with 24% in the U.K. and 25% in the U.S.
Millennials use smartphones more than any other platform, especially in the U.S. (61%) compared with 47% in Canada and 50% in the U.K. Smartphone penetration is deepest in Canada across all age groups: 95% among millennials; 89% among those aged 35 to 54; and 62% in the 55-plus category.
Market-wise, all three audiences consume more social and entertainment on their mobile phones than any other category.
comScore plans on issuing a follow up report to this first comparative study to track changes in mobile consumption next year.
Image courtesy of Shutterstock