Doritos 'deepens' its gamification strategy
The brand has launched a mobile-only game inviting consumers to go inside one of its new chip products.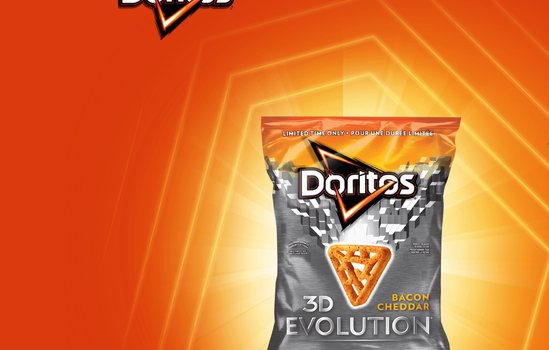 The newly introduced limited-edition Jacked 3-D Bacon Cheddar Ranch snack has a mobile-only execution on both sides of the border.
In the U.S., the company has launched a 3D mobile campaign that allows consumers of the new snack to scan each chip for an original 3D-style video experience.
In Canada, the brand has launched the Doritos 3D Dimension, a mobile-only game in which players use two fingers to zoom into the chip's "interiors," taking them on a trip to lala land with the graphics changing the deeper they venture into the chip's inner-core.
PepsiCo's media agency of record is OMD, and the creative agency on the Doritos account is BBDO.
The execution was part of the brand's strategy to target its core, 16-to-25-year-old male consumer on their device of choice, says Susan Irving, senior director, core brands at PepsiCo Foods Canada. The desktop version of the site gives users a gentle slap on the wrist with this statement: "Smartphones Only! Seriously? Are you still using your library's internet-enabled desktop computer? Use your smartphone to enter the Doritos 3D Dimension game!"
"They are always-on, digital natives and highly plugged in to pop culture. They are also bombarded with advertising so breakthrough and cool are both key in capturing their attention," says Irving. 
The company based its campaign on research that its core consumer group is hyper active on mobile and mobile games. 
"Gamification is a fun, simple and memorable way to engage with our brand target and this execution is also product-centric: a visual journey into a 3D Doritos chip," says Irving.
Doritos has been adopting a games strategy for its target for some time now. In February the company invited consumers to hold a finger down on a digital Doritos bag on their mobile screen as part of the limited-time return of its Ketchup-flavoured chips exclusive to the Canadian market; the user who kept their finger pressed onto the chips bag the longest won a year's supply of Doritos chips. Last year the company actually made its chip into a game with its launch of the Doritos Roulette chip.