New Twitter tool promotes event-based targeting
The social media network has enhanced its tools for marketers looking to advertise alongside major events.
Twitter has launched an event-targeting tool to help brands better access their targeted demo.
The social network has an added feature that lets brands activate messaging around live events using Twitter audience insights to determine if they match the brands' target profile.
Brands have access to an event calendar that shows them upcoming major events (like Mothers Day), provides insight on them, and allows advertisers to insert creative alongside. Currently the calendar picks up sports, holidays, festivals and political events in five locations including the U.S. and the U.K. It is, however, available to advertisers globally.
The feature has been in beta testing and has been used by a select few clients such as MEC Global and Mindshare U.K. MEC Global used event targeting for one of its clients for a music festival. Kaitlyn Bigica, social media manager at MEC Global, said the tool has helped deepen engagement with audiences for her clients. "[It] has been crucial in identifying purposeful investment opportunities through insight into conversation spikes, allowing us to tap into the most strategic moments and prepare conflict creative for multiple scenarios."
So how does it work? An algorithm sorts through the calendars' events and picks out events relevant for specific brands based on marketing strategies. It then lets the marketers decide which event makes sense for their campaign through the use of filters for location, date, and type of event.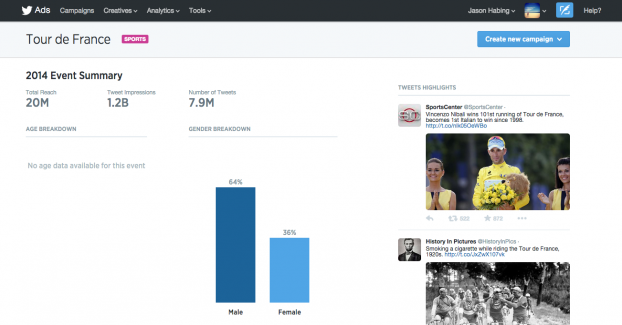 The tool provides brands with information on each event, including audience info  - device breakdown and total reach, for example – from the previous years' event. (see left)
It also allows brands to see a further breakdown of the stats by gender and language.