More cord-cutting ahead but mass exodus unlikely: report
Cord-cutters will grow in number but not by an earth-shattering amount, according to an IDC report.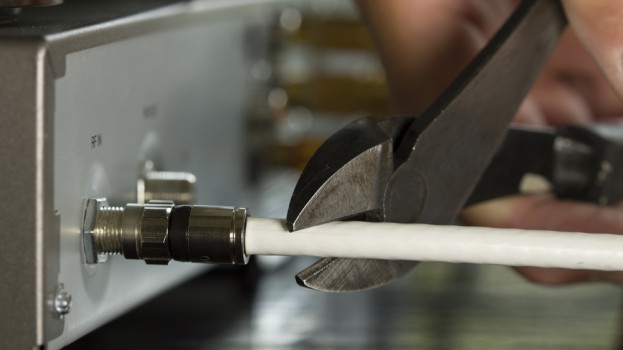 Consumers looking for more choice and finding it on OTT services will cut the cord in increasing numbers but a look through International Data Corporation's crystal ball does not show a mass exodus.
According to the IDC, which has issued a new report on the state of television in Canada, consumers here will continue to dissociate themselves from traditional cable television, projecting that just under half-a-million subscribers will cut the cord by 2019.

There are currently 11.8 million cable subscribers today and that number will fall to 11.3 million subscribers in four years. The impact on cable company revenues will be a 7.8% decline over a five-year period, the report predicts.
"There is a shift towards Canadian consumers gaining accessing and comfort with video outside of traditional TV services," says IDC analyst Emily Taylor, adding that a major wave of cord-cutting is not forecast by the company.
The IDC report is based on subscriber and revenue numbers from the previous calendar year. IDC built its forecast on a combination of Canada-wide surveys, vendor interviews, financial reports and product launches.
The availability of content through other channels – both legal and illegal – has had its impact on cable subscriptions, says Taylor with many digital natives using VPNs to access Netflix's U.S. library or other video streaming sites legally unavailable in Canada. Additionally streaming services are on the rise with hardware like Roku providing other, cheaper ways to access video content. Moreover, OTT services like Crave TV and Shomi will soon be available to all Canadians.
There is also a growth of niche companies focusing on growing the cord-cutter base, says Taylor. While the impact of companies like The Antenna Guys, a GTA company that provides free HD TV access for the cost of an antenna purchase and installation, isn't huge yet, these niche players are worth looking at in the future.
The projected drop in revenue over five years is less attributable to the ease of access to alternative services and more about the availability of  high-quality programming on services like Netflix. "People are talking about these shows around the water cooler," says Taylor pointing to the increasing access of mainstream content in non-traditional spaces.
The report also suggests keeping an eye on new OTT services in the U.S. with HBO Now and Sony's Vue service with Google planning to launch its OTT service in the fall. Those companies may choose to launch those services in Canada as well.
The picture is not all gloomy for cable companies, says Taylor. In addition to gradual decline in cord-cutting, the CRTC's Let's Talk TV decision on the basic skinny package and pick-and-pay options may dissuade potential cord-cutters from taking that final step. "New custom packages may also bring cord-cutters back because cable is more customized and specific."
IDC's forecast is for 2019 but as millennials and digital natives grow older the impact of their consumption behaviour may have a more significant impact on cable companies. "We're looking at Twitch and Snapchat and Vine and a lot of user generated content which is different from traditional content. [This generation] will have an impact as they age, and industry right now is trying to set up what that report will look like."
Image courtesy of Shutterstock