Spotted! Meet you at the top (of the CN Tower)
CN Tower has teamed up with Astral Out of Home to run an interactive transit-shelter campaign to drive people to the city's tallest building.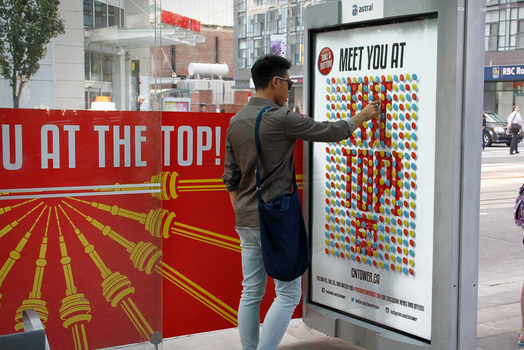 Commuters waiting for their ride in a transit shelter might be lured to head to the CN Tower instead.
In its OOH campaign in partnership with Astral Out of Home, duplicate spoke-like images of the CN Tower meet in one place inside Toronto transit shelters. On the shelters' interior brightly coloured buttons were stuck onto the glass face, encouraging commuters to interact with the installation and grab a button as a keepsake. The removal of all the buttons revealed the installations' message: Meet you at the top.
BT/A was the media agency on the campaign.
The campaign, which launched on July 29th and will be on display until August 17th, is visible in shelters by two downtown intersections: Dundas and Bay; and University and College. It was also visible between June 29 and July 5th in two other downtown locations where commuters pulled off all the buttons by day three of the interaction.
A social media campaign is also underway and the more surprise activations are expected to follow over the rest of the summer.