Olson bakes with Fleischmann and KitchenAid
The celeb chef will be hosting a second season of her baking show on Food Network Canada with bumpers, promos and vignettes from the cooking brands.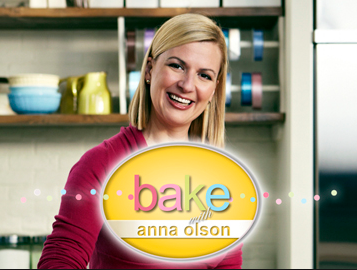 Bake with Anna Olson is back on air on Food Network Canada for a second season, bolstered this time around by two brands indelibly associated with the baking experience: Fleischmann and KitchenAid.
This is Fleischmann's first time as an official sponsor of the show. The two brands will be jointly sponsoring this season, which premiers on Sunday, Sept. 6 at 12 p.m.
The pairing of the ingredients company's products and the KitchenAid's array of baking tools with Canada's first lady of baking, Anna Olson, was part of Food Network Canada's strategy to build the perfect baking experience for viewers, according to Barb McKergow, head of marketing ventures at Shaw Media. The channel's data shows that the show reaches its target female demo aged 25 to 54.
The sponsorship will see Olson using Fleischmann products – yeast, baking powder, corn starch and mazola corn oil – in her recipes in every episode.

KitchenAid's wide range of mechanical mixers and other tools will be used to cut, chop, dice, mix and beat raw ingredients as Olson molds and kneads them to perfection.
Both brands will have bumpers, promos and brand associative vignettes that will  be integrated into the show and also air out-of-show.
The show, Bake with Anna Olson, has a long history with Food Network Canada. The traditional how-to style series features Olson as she starts with the basics and ramps up her instruction to more complex sweet delights as the season progresses.
Food Network Canada will be free to all Canadians for the month of September.