Tennis date at National Bank?
The Rogers Cup sponsorship package includes an in-bank mobile-to-digital signage tennis game that will keep waiting clients engaged.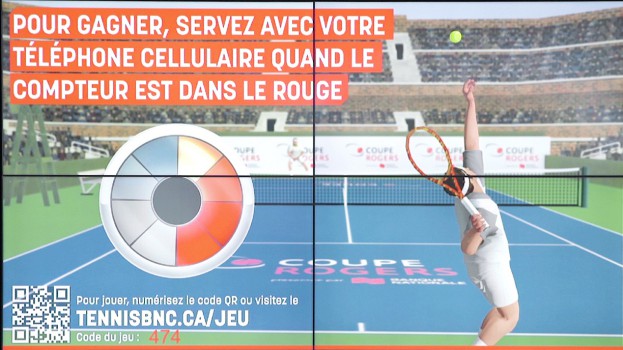 Clients waiting for a teller at National Bank of Canada can now add fitness to their financial regimen by engaging in an impromptu game of digital tennis.
As part of its Rogers Cup activation, the bank has partnered with Montreal-based iGotcha Media to develop an interactive tennis application to supplement its Rogers Cup sponsorship.
The digital signage company has launched its first mobile-to-digital signage app. Visitors to select branches can either scan a barcode or enter a url in their mobile browser to hit some rallies on a court that appears on a digital screen in the bank. So far, one respondent has played the game every 15 minutes on average.
This tech advancement complements the company's growth and business strategy, says Greg Adelstein, president, iGotcha Media. "We are also doing a lot of special events for these companies whereby they are adding digital strategies or in-store events – It's a natural complement to offer these types of technology digital signage activations to them."
The company, which counts big brands like Reebok, Le Chateau and Rockport as its regular clients, is exploring event-based tech activations around events like music concerts. One of their current projects involves using radio-frequency identification technology to create secure concert bracelets for multi-day events. The bracelets would be computer-readable passes tagged to the attendee's mugshot, making it difficult to pawn off a ticket on the black market.
From a tech point of view, the tennis activations showcase a significant advancement. Unlike Wii, which requires a console and a separate device, the game can be activated through a browser using a regular internet connection and a smartphone. "We've figure out out how to close that loop, technologically speaking," says Adelstein. "It's a real-time reaction, users see a reaction right in the screen." 
The tech development also offers opportunities to scale in other venues. iGotcha Media is currently working on expanding its tech to bus shelters and other waiting spaces with a captive audience and an advertiser who wants to interact and engage with that audience. 
Engagements could include discount offers, competitions and other special offers.
The Rogers Cup activation with National Bank is mostly to promote the tournament and its sponsor with the added benefit of letting its clients know that it is digitally savvy, says Adelstein. There is a carrot on a stick offer, too, for tennis fans. After playing a game, clients can register their name into a Rogers special draw to win tickets to some of the games.
The Rogers Cup is being played in Toronto (women's tournament) and in Montreal (men's tournament), and is being broadcast live on Sportsnet.