Brands gear up to gift at TIFF
Sorel and Elle Canada are the title sponsors exploring branding opportunities with celebs at the Tastemakers Lounge during the festival.
Elle Canada has partnered with Canadian company Tastemakers to bring stars some free gifts, relaxation and reprieve from the madness during the Toronto International Film Festival. The magazine and footwear brand Sorel are the title sponsors of this year's Tastemakers Lounge, where brands get a chance to interact one-on-one with celebs from the film world.
The lounge, which is a Canadian-owned gifting suite that provides marketers with a branding opportunity with stars and other major influencers, will be open from Sept. 10 to 15 at the InterContinental Toronto Centre.
Through it, Canadian and international marketers have an opportunity to give members of the film fraternity a unique brand experience, says Debra Goldblatt-Sadowski, president, Tastemakers and Rock-it Promotions. The lounge, which has the feel of an upscale store, will also have brand reps present to engage with visitors and each sponsor will have a rep.
"The brand rep that is there is not someone in a shoe store but someone who is directly connected with the brand, who knows the passion behind the story and can give unique answers about the tech or design or history of the product," says Goldblatt-Sadowski.
For its inaugural partnership with the lounge, Elle Canada is hosting an interactive portrait studio. Guests will have an opportunity to have a portrait taken by photographer Luis Mora (work featured below).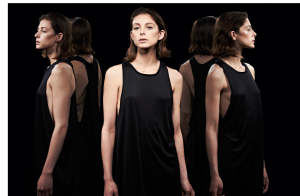 "It's a great opportunity for us to be part of the buzz and excitement around TIFF and it's a terrific venue for us to tell stories and to showcase our first-ever 3-D virtual cover of Diane Kruger," says Noreen Flanagan, editor-in-chief, Elle Canada.

In addition to its photo booth, the publisher is also setting up stations equipped with Samsung Gear VR goggles to give visitors a feel of what it was like to be a part of the Diane Kruger shoot. "It was shot on location at Tony Duquette's eccentric Hollywood hills home, so it's exactly the kind of creative environment our guests will want to explore."
The objective, says Flanagan, is to show off the unique tech experiences that the magazine offers – shoppable videos and live covers, for instance.
During the activation, Elle Canada will produce daily online slide shows featuring some of Mora's in-lounge portraits, and it will be posting interviews on its social media account as well. The team also plans to use Periscope and Snapchat through the day to communicate with its readers.
The lounge's other main sponsor, Sorel has graduated from a participating sponsor last year to a title sponsor this year, and will host a boot shop introducing celebs to its fall 2015 range of bootwear. Visitors to the lounge get to walk away in their chosen pair of boots, with a value of up to $300 each.
The company is also planning on executing a tiered gifting arrangement as it introduces a new line of Sorel apparel – European goosedown with 800 fill, that is launching this season.
Last year, Heidi Janzen, national marketing and PR specialist at Sorel, says they brought 230 pairs of boots and gifted around 140 to lounge visitors.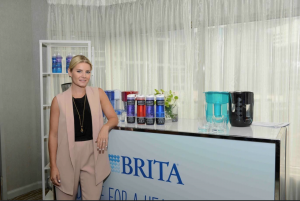 Last year Elisha Cuthbert (pictured beside Brita bar) and Ellie Goulding (pictured above by the Lush bar) walked away in Sorel boots.
The lounge also gives a brand like Sorel, which has no Canadian stores, an opportunity to engage with clients.
Tastemakers has been around for 11 years and over that period the likes of Brad Pitt, Samuel L. Jackson and Harvey Weinstein have enjoyed the space. It was started as a collaboration between Goldblatt-Sadowski and Leesa Butler, VP, operations at Tastemakers and also president of Divine Lab, who saw an opportunity in marketing brands to celebs while Goldblatt-Sadowski was working at TIFF. The entrepreneurs developed that concept into a full-fledged full-service gifting suite that was the first of its kind in Canada.
Tastemakers' sponsors include a mix of lifestyle clients that range from local to international. Other brands participating in this years' lounge include the [fix], a Toronto-based boutique chiropractic and massage clinic run by Dr. Liza Egbogah that will be offering mini-treatments in an effort to build up a celeb clientele and Pommies Cider, a Caledon-based cider co that crafts its drink from Ontario-grown apples and pears.