Gusto TV peers into a fine dining kitchen
Live FEED gives audiences an uncut and unscripted behind-the-scenes window into the world of an Ottawa restaurant kitchen.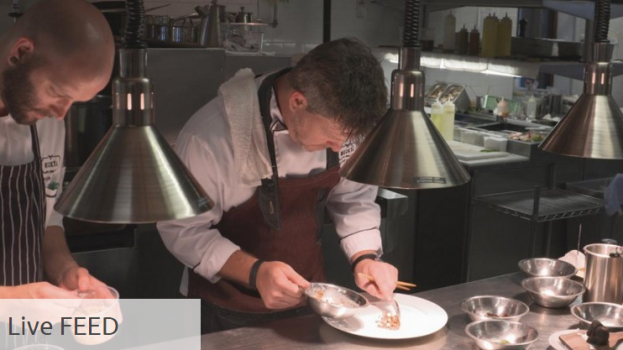 Gusto TV is taking a page out of Ratatouille's script to give viewers a front-row perch to peek into the kitchen of one of Ottawa's fine dining spaces.
The behind-the-scenes, unedited and commercial-free live tour of the Beckta Dining & Wine Bar kitchen is the first execution of its kind for the company and will premiere under the title Live FEED.
The show, which will air for six hours during primetime, will give viewers an all-round view of the acrobatics in the kitchen as chefs, sous-chefs and their support staff juggle kitchen-patrol, orders and clean-up. The Ottawa-kitchen is the first one to be featured on Gusto TV. Future shows could take viewers into the kitchens of a NY deli or a small Spanish haunt, according to Chris Knight, CEO of Gusto TV. 

The idea developed as a sort of reaction to some of the reality-TV kitchen shows currently on the air, says Knight. The channel's indie position in comparison to broadcasting powerhouses like Food Network Canada drove the channel's decision to experiment with form and content for Live FEED.
In order to shoot the live-to-tape feed, two cameramen take 3.5 hours to place 10 cameras around the kitchen, and switch the cameras positioning as the evening progresses. The channel is stripping ambient kitchen sound and layering it with house, acid jazz and funk from its music library.
The objective, says Knight, is to have people tune in to the channel as they go about their evening, targeting its largely female (78%) audience that he says is skewing younger with time – 36.5% of its viewership is under the age of 40.
Live FEED premieres on Gusto TV on Aug. 29 at 6:00 p.m. It will air commercial free for now but if ratings prove that the experiment is a success, Knight says he will be open to branding opportunities. The channel hopes to run the feed weekly or fortnightly based on ratings.