Western Living launches fresh look
The magazine has expanded its size and reconfigured its content with the refresh launching for its biggest issue of the year.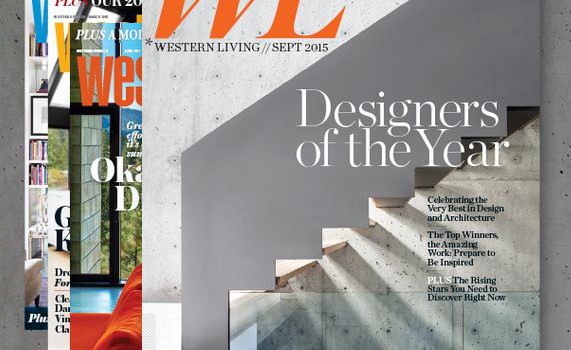 Western Living has spent the last quarter updating its platforms, and is capping off the changes with its print product this month, launching a slightly reformatted September issue.
The design and luxury lifestyle title has been in the western market for 44 years, and was owned by TC Media until it was purchased by Yellow Pages NextHome in May.
Western Living is distributed for free to high-income postal codes in British Columbia and Alberta, predominantly as an insert in the National Post. Going out seven times per year the title has a circulation of 56,000 in B.C. and 61,500 in Alberta. The target demo for the title is affluent homeowners in their 30s-50s in Western Canada, along with designers who use Western Living as a trade magazine.
The magazine's rebranding started with a relaunch of its website a few months ago, increasing the update frequency to around three to four new stories going up each day. Content updates will be focused on news around homes, décor, design, food and travel.
Tom Gierasimczuk, publisher of Western Living and GM of the Western Media Group, says prior to the update the website was fairly static, with around two updates a week. In June the title had 91,596 unique visitors, according to comScore numbers from Western Living.
Because the website it now providing more of the quick-hit news that had been in the magazine, content in the print version is becoming more long-form and collectible. Imagery in the September issue is also getting more space, with the magazine adding an inch horizontally, making it nine inches wide.
"Going an inch wider made it feel like we can really take it a step further with the print product," says Anicka Quin, editor-in-chief. "It helps us to be able to celebrate what makes print so strong. We now have more of a horizontal space instead of a vertical one. The change means we probably have fewer photos, but they're airier and really showcase the homes and places we're showcasing."
The 148-page September issue has 50 pages of advertising, and took cues for its refreshed look from the world's top fashion and design annuals, along with a survey of its own readers to ask about what they wanted to see from the title.
The issue features Western Living's annual Designers of the Year awards, and will be coupled with a pair of events in the fall, a revenue stream Quinn says the title has been exploring more in recent months.
"Because the magazine has gone in the direction of designers and home décor, it's really evolving into a B2B title as much as a consumer title," she says. "There are lots of opportunities there, we can put together events that are accredited by the Interior Design Institute because designers need to put in a number of professional development hours a week."
Along with the fresh look, Western Living aims to be going out to some new faces, the magazine's acquisition by Yellow Pages NextHome means the magazine's distribution model will expand by the end of 2015, says Gierasimczuk.
"That acquisition was strategic in that they are really positioning themselves as a regional real estate and regional home décor company," he says. "One complaint we hear is that Western Living isn't easily accessible. So one of the things we want to do is make it more accessible. We bait the next generation of readers, or people who aren't aware of the magazine."