EA Sports, TSN go live for NHL 16 event
This season's top rookies, Connor McDavid and Jack Eichel, squared-off in a EA Sports NHL 16 battle across TSN platforms.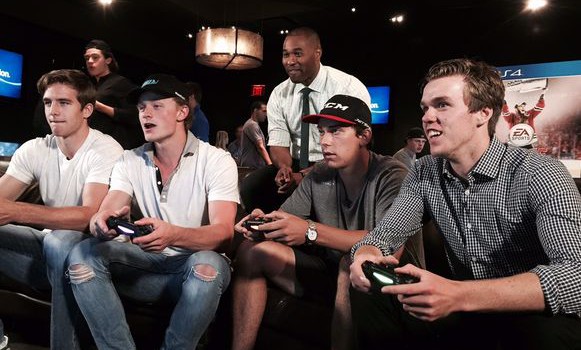 EA Sports took advantage of the Connor McDavid pre-season hype this week with a special live game set up in partnership with TSN's SportsCentre.
The game company was promoting the upcoming release of NHL 16 this week, arranging to have star rookie McDavid along with Jack Eichel, Noah Hanifin and Dylan Strome face off during Tuesday's edition of SportsCentre. 
TSN also broadcast clips from the "game" across its digital platforms, including SnapChta, posted behind-the-scenes content on TSN's BarDown site, along with articles like "Who are the top 10 rated players in NHL 16, and do they deserve their spots on the list?"
Arranged directly between EA Sports and Bell Media, the competition had the highest average views per clip to date on TSN's SnapChat account. Overall it brought in 7,800 views per Snap across 23 videos, with 178,000 total views on the platform.
Make sure to watch our Snapchat Story on TSN_Official for more from McDavid/Strome vs Eichel/Hanifin playing NHL 16 https://t.co/pMK9qNdRAc

— TSN (@TSN_Sports) September 2, 2015
At the time of posting the clip had 18,000 video views on Twitter and about 89,000 impressions on the platform.
RDS will be extending the one-off tournament later this year, showcasing the French-language Le Challenge Hockey RDS EA Sports. That 18-episode series starts in December and will feature 16 NHL players going head-to-head in an NHL 16 tournament.
NHL 16 is released on Sept. 15.