Spotted! A punny twist on holiday sales
Online mattress retailer Casper took to the water yesterday, taking brand fans on a Labour Day sail.
The mattress-sales game is a cutthroat one, with brick-and-mortar retailers like Sleep Country and The Brick duking it out for the attentions of a sleep-deprived public.
While those retailers rely on tried and true radio, flyer and TV advertising and tent sales, upstart online mattress retailer Casper looked to a cheekier strategy to get consumers' attention over Labour Day weekend by promoting its latest "sail."
The company hosted weekend "sails" in New York, Los Angeles, San Francisco and Toronto, taking potential customers out on waterfront cruises during which they could test-drive products. And while other retailers were likely happy to have a trickle of walk-ins on a hot holiday weekend, Casper reports that all of its trips were sold out (even at $30 per person).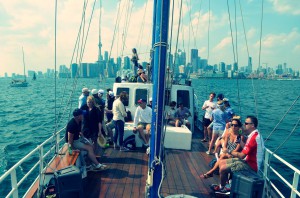 Promotions for the event were done with the social media buy, along with email blasts to the company's lists, says Sherwin. Media and creative planning for the activation was all done in-house.
"There wasn't a tie in to selling our mattresses through the event," says Sherwin of the boat tour. "It was more about word of mouth. Where other companies might look at things through a marketing lens we want to make things arresting and surprising. A lot of people on the boats already owned a mattress, so more about creating a better relationship with existing customers."
Later this month (and sadly not in Canada), Casper will be hosting a nap tour in seven U.S. cities, featuring touring "nap pods" where visitors can test out mattresses with a quick siesta. That activation is similar to one done a couple years ago by GlaxoSmithKline's Breathe Right Nasal Strips, where the brand encouraged citizens in Ottawa to try out its product while taking a nap.