Kin Community influencers speak to brands
Kin Community personalities offer insight into how to best execute a brand integration with MCN partners.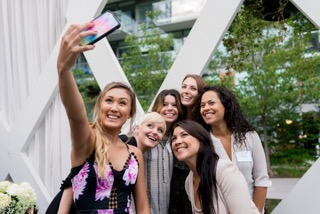 "Don't piss off my boss," is the advice digital influencer Sara Lynn Cauchon has for marketers during a digital media "Power Hour" with some of Kin Community's digital celebs at Corus Entertainment's dockside headquarters yesterday.
By "boss," Cauchon, better known in the YouTube world as The Domestic Geek for her "eat-well, live-well" supply of healthy recipes was referring to her audience, more than 500,000 subscribers who tune in to see her videos. "You can't have two bosses," she said in response to a question about how brands can learn to work better with digital influencers.
The sentiment was echoed by all her fellow panelists, including the Kin Community influencer, Lauren Riihimaki of LaurDIY with over 2.2 million subscribers, baker Yolanda Gampp of How to Cake It, Becky Wright and Kelsey MacDermaid of The Sorry Girls, and Lauren Toyota of Hot for Food. The panelists talked about the importance of trust in building relationships with brands and getting brands to acknowledge and trust that they know how to sell the brand to their audience.
Kin Community's L.A.-based CEO Michael Wayne introduced the panelists by talking about his company's focus on Facebook as a place to move mobile video, especially as the social media network continues to amp up its native video platform. Facebook has been working on upgrading its audience network, giving brands access to native video with new features like autoplay videos that are unavailable on YouTube. Wayne says that as Facebook rolls out its suggested videos section, it will become an increasingly more natural home for Kin Community content.
Meanwhile, panelists talked about positive experience with brands with Riihimaki applauding her Starbucks partnership in which she said the brand asked her to promote two new fizzy drinks in whatever way she saw fit. That creative partnership resulted in a video that was posted on July 19 and has over 700,000 likes. Riihimaki described the brand experience to be perfect as Starbucks trusted her to advertise the new products without directing or influencing her style.
Not all brand partnerships have been as successful and the digital influencers offered suggestions for brands looking to book influencer campaigns on MCN channels.
"Some of our brand deals were over-scripted," said Wright of the DIY team The Sorry Girls, attributing the problem to old-school TV-based advertising models. "We know what we are doing, we know how to communicate with our audience."