Shomi wraps entertainment district in royal hues
The streaming service has taken over watering holes where festival-goers congregate during TIFF.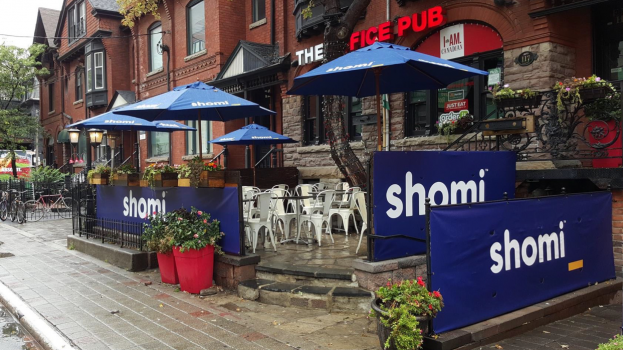 Shomi has orchestrated a restobar takeover like no other with its promotional campaign to raise brand awareness for the streaming service. For two weeks between Sept. 10 and 24, people walking through the streets of the entertainment district will see lots of purple.
The decision to develop a campaign alongside the Toronto International Film Festival and place it in restobars made sense for the brand says Rita Ferrari, director of product and brand marketing at Shomi.
"We've been talking about it for a long time, and you think about where do people congregate the festival period is an obvious one."
The campaign includes signage and wraps inside and outside 16 restobars and a moving living-room styled experiential Shomi van with interactive games, props from Shomi shows and brand ambassadors to introduce passersby to the steaming service.  Props from some of the services' hit series include wigs from Transparent, a jacket from the Sons of Anarchy and cupcakes from 2 Broke Girls. The cozy living room also features a spinning wheel. Anyone who spins walks away with something, mostly Shomi swag, and at the very least, a bag of popcorn.
Creative for the campaign was created by Rethink and media by OMD, while Toronto-based agency JamVan developed the experiential campaign.
The most visual part of the campaign is its takeover of outdoor patio space with purple railing wraps in some locations and purple Shomi-branded umbrellas in restobars on King Street where TIFF is headquartered. Inside the restobars also have Shomi branding with coasters, murals and digital charging stations. That execution was handled with support from Rouge Media.
"Our brand is a little bit quirky," explains Ferrari. "The strategy really fits our brand because its cheeky and a little bit guerrilla, and its what our brand is about so it made a lot of sense for us."
Shomi, which was previously accessible only to Rogers and Shaw subscribers, went wide to all Canadians on Aug. 21. For its launch it had characters from some of its hit series walking about the high-visibility areas in the major metros.