The Star's new app touches down
John Cruickshank and Carolyn Sadler on the launch of the Star Media Group's big bet to reach younger readers.
Last fall the Toronto Star announced it was launching a new platform that would aim to ease some of its advertising woes by better reaching younger readers.
Today that platform is hitting screens, with Star Touch, a free iOS tablet app designed in partnership with La Presse, the publication behind the successful La Presse+ app.
The app is the result of a $13 to $15 million investment from Star Media Group and operating costs of $8 to $9 million in 2015 alone, and comes during a climate of uncertainty for the Canadian newspaper business. Star Media Group itself has recorded multiple quarters of losses. For the second quarter of this year print ad drops at the Toronto Star contributed to a dip in revenue of $20.3 million or 8.6% for the quarter versus the same period in 2014 for the Star Media Group's second quarter, which measured the three months ended June 30, 2015.
In a sign of just how big a bet the Star is putting on the app, it has totally reworked its newsroom to support it, hiring a team of 60 journalists and designers to create content for the app, with content for all other platforms coming from it. Star Touch content will be produced in a style similar to a TV news broadcast, and leans heavily on interactive elements, using photo galleries, maps, video, audio clips and fact boxes to generate greater user engagement.
That is all in order to reach what research from the media co has found to be an audience that will skew female and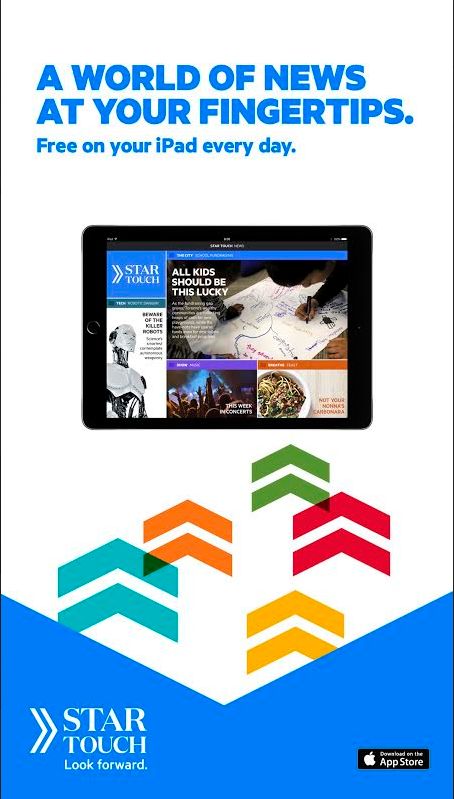 have an average age of between 30 and 50. The current print subscriber base at the paper has an average age of 55 to 60. To better reach that younger group on Star Touch the Star has introduced Breathe, a lifestyle section with a different theme for each day of the week, like fitness for Mondays, love for Tuesdays and fashion from Star Media Group's The Kit on Thursdays.
The app Star Touch is modeled after, La Presse+ has seen huge engagement numbers since going live in April 2013. Readers spend on average 44 minutes with La Presse+ on weekdays, 73 minutes on Saturdays and 50 minutes on Sundays. More than 58% of its readership comes from adults aged 25 to 54.
"The reason we went into this partnership is we didn't see anything else out there in the market that was even vaguely as interesting as La Presse+," says John Cruickshank, publisher of the Toronto Star and president of Star Media Group. "This has so much more power to deliver really interesting executions and a very different kind of storytelling."
Though some recent reports suggest sales of the iPad, which Star Touch is designed for, are stalling, in July 2015 there were 8.7 million unique visitors on tablets overall in Canada according to the comScore Mobile Metrix.
Unlike other apps in market, like the Globe's, which has three editions a day, Star Touch will get one update every weekday and will hit subscribers by 5:30 a.m.
Updating once a day is the right strategy given how people use their devices, says Cruickshank. He says people will go to the website for breaking news on their phones or desktops throughout the day, but will check for a new edition on the app first thing in the morning on their iPad.
A quick little peek at the marvels inside #StarTouch https://t.co/POA0L0WdlK via @vine pic.twitter.com/L1oy0DH0WB

— Wendy Metcalfe (@Wendy_Met) September 15, 2015
Unlike La Presse, which is phasing out its print audience with La Presse+, Star Touch isn't meant as a replacement for any of the Star's other products, but Cruickshank says the flipped content generation model will change the feedback loop it has had with its older print audience.
To entice advertisers onto the new platform, Star Touch has an introductory launch package for major clients that maintain spend for the last quarter of 2015 and first quarter of 2016. That deal includes free inclusion in the app while Star Touch builds its audience. Launch advertising partners include TD, RBC, Volkswagen, Bad Boy and Elizabeth Arden.
Advertising in the Star Touch app is bought on a non-CPM basis, with clients buying real estate space similar to how they do in a newspaper, rather than renting it online.
Carolyn Sadler, VP sales, Star Metro Media at Star Media Group, says that calling what her sales team went on ahead of today's launch a "sales tour" is a bit of a misnomer because the majority of the visits involved agency teams coming in to the media co's 1 Yonge St. offices to check out the new app being constructed.
"Both agencies and us as the publisher appreciate the need to talk about new alternatives, with print being at the rate of decline that it's been at," she says. "This is a way to have transformative conversations about the delivery of a news product."
Cruickshank says there has been a degree of education to agency teams about how Star Touch, which he describes as half newspaper, half TV, fits into media plans.
"One of the things we have found with the agencies is some kind of uncertainty about what kind of a buy it would be, if it's a digital one or a print one, so there's going to be a lot of education for us so they can really see the benefit of it," he says. "The benefit will come when the app is out there and people can see it."
Metrics will be measured in-house at Star Media Group, with plans to become AAM certified similar to La Presse+, says Sadler.
In order to get brands placing ads that use the maximum potential of Star Touch, the Toronto Star has also created a team of about 25 people who work in a studio to create ads for clients.
A promotional campaign for Star Touch will be hitting digital, OOH, print, search and radio today, with media from M2, creative from Rethink and activation from Mosaic. A heavy piece of the promotional push will be experiential, with Cruickshank noting that the best way for readers to get a feel for the new app is to touch it themselves.
Star Touch getting plastered all over Eglinton Stn right now! Exciting times at @TorontoStar pic.twitter.com/93FwsCqmFX

— Katrina Clarke (@KatrinaAClarke) September 12, 2015