What Scion sees in The Plateaus
How a web series about a fake band and a car company turned the traditional funding model on its side.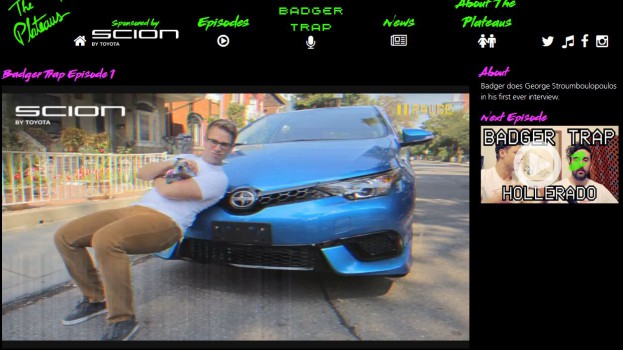 The CBC has launched a new web series, and while Bryan Ward, manager of content marketing at the pubcaster says the content itself is edgy, the way it was created turns the traditional partnership model on its side as well.
The Plateaus is a 10-episode web series that straddles the line between music and comedy, about a band trying to make a break (and failing every step of the way). It was first funded by the Independent Production Fund (IPF) in 2014, with the producers hiring Shed Creative Agency to help find a brand partner. That's where Beyond Marketing Group and its client Scion came in, creating an integration around the content before the CBC was involved. That is a twist on the more traditional model, where a project partners with a broadcaster before finding a brand sponsor.
Because the project used a different model, Scion came on to the scene later than they would have liked into the production process. To adapt the content to the sponsor, a five-episode spinoff series called Badger Trap was created for the car co to integrate within, says Chris Lee, president of Beyond Marketing Group. Badger Trap follows radio host and The Plateaus number one fan as he interviews people including George Stroumboulopoulos, Fred Penner and Hollerado.
Scion has partnered with the series because both the car co's newly released iM and the web series have a target that skews towards males aged 25 to 45.
The first five episodes of The Plateaus are live now, with the second five being launched at the end of this week. All five episodes of Badger Trap are online now. The series will be promoted through a social media push by the CBC.