Carmilla snags PROMO! Awards Best of Show
The web series from Kimberly-Clark and Geometry Global took the top prize, while Leo Burnett, Zulu and Taxi also won big.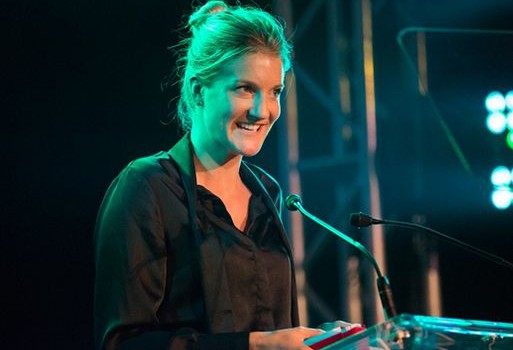 Another award show, another trophy haul by Geometry Global, Leo Burnett, Zulu Alpha Kilo and Taxi.
Last night's PROMO! Awards, which celebrates brand activations that get people engaged, saw Geometry Global (the agency's account director Robyn Dalley is pictured above) take home the coveted Best of Show, as well as two Gold trophies, for the branded content program "Carmilla," which it led for Kimberly-Clark's U by Kotex brand.
Meanwhile, Leo Burnett got its mitts on ten PROMO! Awards (four Golds, two Silvers and four Bronzes) for a range of clients, including P&G brand Always, Ikea, TD, Bell Media's TSN and Coors Light. Zulu Alpha Kilo also made multiple trips to the stage, picking up nine prizes (three Golds, one Silver and five Bronzes) for brands Audi, Interac and Corona. And Taxi, another trophy marauder, took home seven awards (five Golds, one Silver and one Bronze), across its various offices in Toronto and Vancouver, for brands Kraft-owned Mio, Tim Hortons and the Canadian Badlands.
Below are the winners (for which there 45 trophies) from last night. To read each of the winning case studies, click here.
Geometry Global
Best of Show
Gold (Most Innovative Idea or Concept)
Gold (Best Use of Social Media)
Kimberly-Clark's U by Kotex  "Carmilla"
Leo Burnett Toronto, Chicago, London/Holler
Gold (Best Use of Social Media)
Gold (Best Digital Marketing Campaign)
Gold (Best Activity Generating Brand Awareness)
Procter & Gamble's Always "#LikeAGirl"
Leo Burnett Toronto
Bronze (Best Use of Mobile Marketing)
Molson Coors' Coors Light "#PimpMyProfile"
Bronze (Best Small Budget Campaign)
Bell Media's TSN "Kings and Queens of the Court"
Silver (Best Shopper Marketing / Retail Account Specific Activation)
Bronze (Best Integrated Campaign)
Ikea's "Quick & Easy Room Makeover"
Silver (Best Pop-Up Activation)
Ikea "Inspiration Boxes"
Gold (Best Integrated Campaign)
Ikea's "House Rules" Leo Burnett Toronto
Leo Burnett Toronto / Diamond Integrated Marketing
Bronze (Best Digital Marketing Campaign)
TD Bank "#MakeTodayMatter"
Zulu Alpha Kilo
Bronze (Best New Product Launch)
Audi "A3 Launch"
Silver (Best Digital Marketing Campaign)
Audi "Tight Parking"
Gold (Best Brand Building Campaign)
Gold (Best Activity Generating Brand Volume)
Gold (Best Activity Generating Brand Awareness)
Interac "Be In The Black"
Bronze (Best Brand Building Campaign)
Bronze (Best Activity Generating Brand Volume)
Bronze (Best Activity Generating Brand Awareness)
Bronze (Best Pop-Up Activation)
Labatt Breweries of Canada / Corona Extra "Summer Campaign"
Taxi Vancouver / Taxi 2
Gold (Best Small Budget Campaign)
Silver (Best Use of Social Media)
Canadian Badlands "Help Build the USS Enterprise"
Gold (Best Use of Mobile Marketing)
Gold (Best Sponsorship Campaign)
Bronze (Best Experiential Campaign)
Kraft's "MiO POV"
Gold (Most Innovative Idea or Concept)
Gold (Best Pop-Up Activation)
Tim Hortons "Tims Next Door"
Cossette
Silver (Best Sponsorship Campaign)
Perfetti Van Melle / Mentos "The Amazing Journey Contest"
Gold (Best Cause or Charity Marketing)
Silver (Best Small Budget Campaign)
Bronze (Best Use of Social Media)
Amnistie Internationale Canada francophone "#MinuteOfHope"
Hill + Knowlton Strategies 
Gold (Best Use of Direct Marketing)
Corby Spirit and Wine's The Glenlivet "Squadron 70″
Bob Agence
Silver (Best Shopper Marketing / Retail Account Specific Activation)
Unilever's Dove "Camera Shy Program"
JWT Montreal
Silver (Best Integrated Campaign)
Tim Hortons "Tim Boston"
Diamond Integrated Marketing
Silver (Best Experiential Campaign)
TD Bank "The New to Bank Tour"
Mosaic 
Silver (Best Experiential Campaign)
Coca-Cola's Diet Coke "Get a Taste: Style Bar
Touché / Cleansheet / North Strategic
Silver (Best Cause or Charity Marketing)
Canadian Tire / Jumpstart "The Big Play"
Proximity Canada / BBDO Toronto
Silver (Best Activity Generating Brand Volume)
Mars / Misfits "Dog GIF Party Maker" 
Pigeon Brands
Silver (Best Use of Packaging)
Tim Hortons "#WarmWishes Holiday Cup" by Pigeon Brands
Sid Lee
Bronze (Most Innovative Idea or Concept)
Mark's "Ready for Winter"
MacLaren McCann
Bronze (Best Cause or Charity Marketing)
MasterCard Canada "Priceless Surprises – Truckload of Priceless"
Fuse Marketing Group
Bronze (Best Sponsorship Campaign)
Kruger Products' Scotties Facial Tissue "Power of 10″
TracyLocke Canada
Bronze (Best Shopper Marketing / Retail Account Specific Activation)
Kraft "Food Hacks"