Corus announces charter sponsors
The entertainment co has tied up with Kimberly-Clark and Sunwing Vacations for custom integrations across all its kids and family brand channels.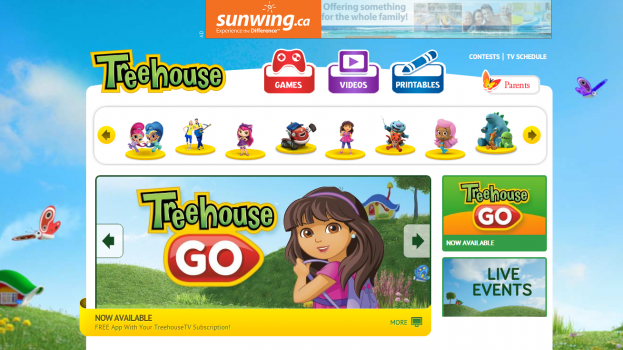 Corus Entertainment has signed on Kimberly-Clark and Sunwing Vacations as charter sponsors across all its kids and family channels. Channels included in the partnership are ABC Spark, Cartoon Network, Disney Channel, Teletoon, Treehouse and YTV.
Marilyn Orecchio, VP, TV sales, client strategy at Corus, says the deal involves creative customized campaigns for the brands across both television and digital platforms. With campaigns rolling out this fall, the media and entertainment co plans to integrate them into all the kids' apps associated with its TV brands. (In July this year, Treehouse's Go app topped iTunes Canada's most-downloaded app in the kids category.)
The announcement follows insights from a Corus-commissioned online study of 1,000 people in English Canada with children between the ages of two and 12 years. According to that study, which was conducted by New York-based Feldman Research Lab, 77% of parents see viewing time as family time and 84% of parents reported that watching TV was an easy way to relax together as a family.
Building on inputs from this study, Orcechio says the company's ability to reach 90% of moms provides brands like Kimberly-Clark and Sunwing vacations direct access to their target audiences.
Both sponsors will be rolling out custom campaigns across the company's kids and family brands. Kimberly-Clark will be integrating its Pull-Ups Training Pants into digital and linear content on Treehouse, Teletoon, YTV and Disney Channel with these integrations being rolled out on the channels' apps as well. Online, the sponsorship will include advertorials on Treehouse.tv and WDish.com with branded on-air spots and branded billboards on TV.
Custom content including mom-focused spots on radio and television were created to align the partnership for Disney Channel's September launch.
Sunwing Vacations will target potential customers through branded spots that will be integrated into sponsorship billboards, closed captioning and lower thirds on ABC Spark, Cartoon Network, Disney Channel, Teletoon and YTV.