Instagram reaches 400 million mark
The photo-sharing platform hits a numbers milestone and shares Canada-specific brand case studies for Shomi, Mercedes-Benz and the Fairmont Hotel group.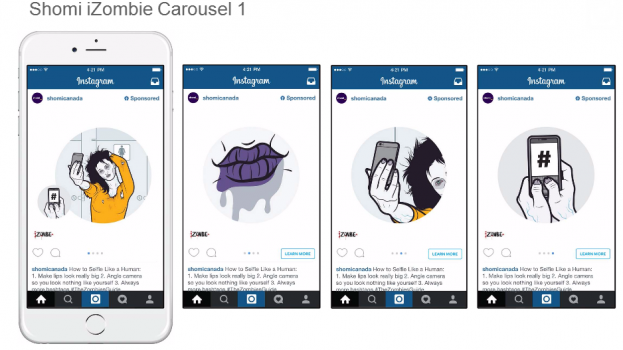 Barely nine months after Instagram counted its user base to include 300 million active users, the social media company has announced that it has now added 100 million more with three-quarters of that total living outside its U.S. base, and with most new users coming from Brazil, Japan and Indonesia.
The company's visual platform is increasingly being used by marketers to promote their brands in arresting and engaging ways, and sees 80 million photos being shared – by people and businesses – across it every day.
The Facebook company has made efforts to find innovative ways for businesses to use the platform, reaching out to like-minded brands with a potential to use the image and video-based storytelling platform effectively. Air Canada, for instance, has been using the platform to introduce potential flyers to visual treats from places that are on its route network.
In May Instagram partnered with Nielsen Brand Effect to measure the impact of the campaigns on reach, ad-recall and brand awareness following  its inaugural campaign rollout in Canada with iconic brands like Air Canada and Canadian Tire.
Instagram currently offers three ad formats: image ads, video ads and carousel ads. Users can swipe across the ads to see additional images, which can include a call-to-action button or lead to the company's website.

The company has also released case studies for three other promotional campaigns in the auto, entertainment and travel sectors measuring their impact on brand awareness, lift in ad recall and favourability with viewers.
Since the company opened its ad product to a greater number of brands, it is also working on improving its targeting capability. "We use information people have shared such as gender, age and interest, as well as interest-based data that comes into Facebook," according to an Instagram spokesperson. "People can choose to hide ads they don't find interesting by tapping "Sponsored, Hide This." The feedback goes into our ad serving technology to help us improve the ads we serve to people."
The company's latest case studies are on campaigns managed by Mercedes Benz, Shomi and Fairmont Hotels & Resorts.
The luxury car company is running its fourth campaign on Instagram after the success of its previous three campaigns that saw a 34% life in ad recall. The current campaign is to promote the manufacturer's "Dream Car," the Mercedes-AMG GT.
Meanwhile, the Fairmont hotel group rolled out an Instagram carousel ads format in which multiple images can be part of a singular ad unit, showing off Fairmont moments (bartender mixing a drink, a charcuterie plate, for instance) next to images of its resorts. The company promoted the campaign, which ran through the month of June, with the hashtag, #FairmontMoments in each ad insertion.
The campaign's measurement showed a 39-point lift in ad recall and a four-point lift in favourability among 35 to 44 year olds. Michael Innocentin, executive director, digital marketing, at the hotel group, says Instagram allowed his company to use a cost-effective method to reach its audience. Innocentin noted that consumer feedback on Instagram through comments was also very positive. 
Shomi's ad campaign, which saw a 17-point lift in ad recall, a three-point life in message association and a 6% click-through rate for button swipe-to-click ran a campaign, featured two carousel ads and one video ad. It was focused on upping the awareness of Shomi's iZombie show. It reached about 1.56 million people at an average frequency of three times per person. The streaming service was able to use quirky custom illustrations and playful captions to grab a millennial audience.