Rogers Radio KiSSes up to Apple Watch
KiSS 92.5 is the first music station in Canada to target listeners on the go with playlists that can be live-streamed on the Apple Watch.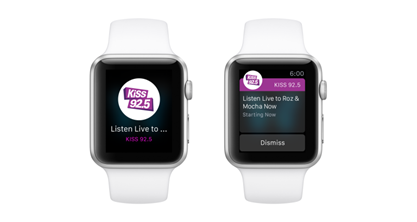 The radio star continues to evolve with the digital revolution. With platforms multiplying, KiSS 92.5 has grabbed its spot on the wearables space by launching its music app on the Apple Watch.
The Rogers radio product is the first music channel in Canada that can be live-streamed through an Apple Watch app. Listeners who tune in to catch its 4o minutes of non-stop radio every hour can scroll through the playlist and connect with whatever is trending on the station by tapping on the app.
"Our strategy for radio is to be on as many platforms as we can," explains Julie Adams, SVP, Radio at Rogers. "Radio has this incredible opportunity to expand beyond traditional desk radios; we are on phones, on desktops, on watches."
The decision to launch a wearable app was not linked to any conclusive in-house research but was more about trying something new and staying innovative, says Adams. "KiSS  is a brand that all about new, hot hits and innovation and trying new things and being more relevant to a younger demo… If we were going to have a music brand on [the Apple Watch], it would have to be KiSS."
This is not the first Rogers Radio brand on the Apple Watch. Wearers can also access 680 News (Toronto), News 1130 (Vancouver) and 660 News (Calgary) on the watch. Those apps went to market in late June and early July 2015. However, KiSS 92.5 is the first music channel to land on the watch.
Adams sees its arrival as evidence of a golden period for radio, a platform that has had fewer challenges in adapting to a digital, mobile era. In addition to being hyper-local with its news content, radio stations always had a mobile element with "old-fashioned" devices that listeners could take with them. "It is a great time for radio, we have so many amazing platforms that we can develop on to expand our reach."
While there are no direct ads on the watch, Rogers Radio does have ad opportunities on the app's load screen where a brand logo can be placed with the messaging that says the watch is powered by that brand.
The radio network will watch and see how KiSS fares on the Apple wearable. Based on its results it will decide on whether to develop and market apps for its other music stations.