Spotted! A mobile closet on the streetcar tracks
Cadillac Fairview Toronto Eaton Centre looks to connect more with its mall visitors through a curated wardrobe execution as it expands its shopping space.
TTC regulars stepping onto the Queen Street West line yesterday were in for a surprise.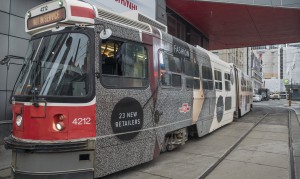 The car, which was wrapped in Toronto Eaton Centre (TEC) advertising, had been remodeled to resemble a walk-in closet for a one-day execution. Featuring items from a select group of retailers opening shop in the mall's upcoming expansion, the execution marked the first-ever takeover – inside and outside – of a TTC vehicle. And to introduce visitors to the selected wardrobe wear and accoutrements was celebrity stylist, Elizabeth Cabral.
In addition to showcasing its new retail partners on the TTC yesterday, the mobile closet will appear as an installation within the new mall space between today and the end of October.
The campaign was developed as a collaboration among agencies and the Cadillac Fairview team. BBR did media, North Strategic did the PR and social, Traffik worked on the creative and SapientNitro was on digital.
The TEC mobile closet marks the christening of additional space on the second floor of the Toronto Eaton Centre where 71,000 more square feet include 23 new retailer stores including first-to-retail brands like Reiss, Oak & Foot and Shoo, a Steve Madden brand. The mobile closet campaign was a way to bring attention to the second phase of the mall's expansion following a rebranding across all its properties, while doing something playful and fun, says Craig Flannagan, VP marketing, Cadillac Fairview.
The execution also marks a shift in the company's strategy to be more consumer-centric. "The shift has been in understanding that we can have a relationship with consumers and that we want one," he says speaking on board the streetcar about straddling the space between retailers and consumers. To address that change the mall property is beginning to respond to the question: "How do our properties make you feel?"
Cadillac Fairview visitors want this kind of inspirational advice and perspective, says Flannagan. The company's strategy is two-fold, to focus on creating inspiration while achieving efficiency. To that end it has developed a mall app that allows visitors to map their journeys, find parking lots and exits and make to-do and shopping lists and move easily from one end of the mall to the other. And to inspire its customers the app delivers inspiration lists curated by theme and season, such as back-to-school lists with featured items and where to get them.
The third phase of the The Eaton Centre expansion will see Sak's Fifth Avenue opening its doors in spring 2016, Nordstorm making its Canadian debut in fall of that year and H&M expanding its Eaton presence to become the largest storefront for the retailer in Canada.