Chef in Your Ear whispers sweetly for Shaw Media
The new Food Network Canada series debuts as the top new Canadian specialty series this fall, while Leave it to Bryan finds its highest season premiere ever on HGTV. (Chef in Your Ear pictured.)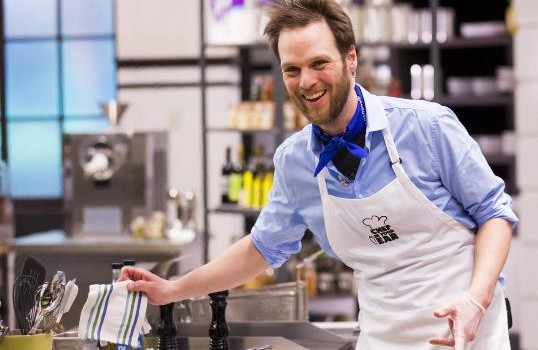 The new format Chef in Your Ear on Food Network Canada has found success with Canadian audiences.
According to Numeris data provided by Shaw Media, the series debuted as the top new Canadian specialty series this fall, with a two-week average audience of 108,000. While its numbers aren't huge, the series airs on Monday at 10 p.m., a competitive timeslot with network television.
Chef In Your Ear, from The Format People, follows amateur cooks taking on complicated dishes as a professional communicates instructions via earpiece. Each episode sees two cooks compete with their professional chef counterparts to see who can make the best meal.
The series has also seen success on the business side, with Warner Bros. International Television Production acquiring the worldwide TV rights (excluding Asia) ahead of MIPCOM.
Shaw Media is also reporting a successful debut for Leave it to Bryan, now it its fifth season, which returned on Aug. 31 with an average audience of 331,000 viewers.
The ratings for its original Canadian series joined successful debuts for a number of other acquisition series on its specialty channels. Forged in Fire from Leftfield Pictures and Outpost Entertainment debuted to 208,3000 on History while buzzed about drama Mr. Robot debuted as the fall's top specialty series with 225,000 viewers. On HGTV Canada, Tiny House, Big Living from Orion Entertainment found traction with Canadians, earning 440,000 viewers for its Sept. 6 debut and earning a spot as a top 10 specialty series.
According to Shaw, it now holds four spots on the top 10 specialty channel rankings.