Rogers rolling out 4K in 2016
The company is bringing a 4K set-top box to market, and will begin broadcasting in the higher resolution format in January.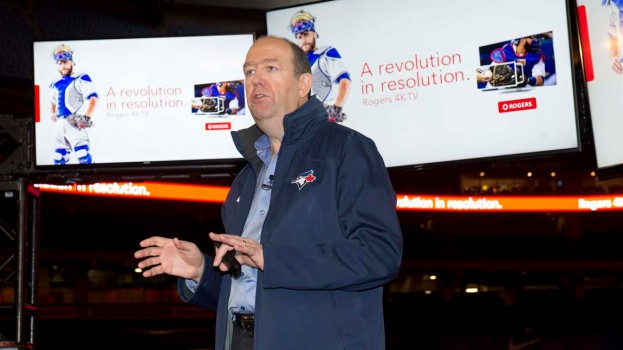 Guy Laurence, president and CEO of Rogers Communications, is hoping 2015 will be a "4K Christmas." He says over 40% of TV sets sold this holiday season will be 4K, a format with four times the pixels as high definition. 
Laurence made those comments Monday afternoon on the field at the Rogers Centre, where the company was announcing a 4K set-top box and slate of 4K sports and entertainment programming. The same field where the Toronto Blue Jays will play their first post-season game in over 20 years this Thursday.
The location for the announcement was no coincidence as sports programming is one of the cornerstones of the new 4K slate. Laurence noted that every Toronto Blue Jays 2016 game will be broadcast in 4K with high dynamic range (HDR). Rogers will also produce over 20 NHL games in 4K on Sportsnet next year, starting with the Jan. 23 game between the Toronto Maple Leafs and Montreal Canadiens.
Scott Moore, president, Sportsnet and NHL Properties at Rogers, says the costs around bringing Rogers equipment up to 4K standards weren't insignificant, but aren't as high as the switch from SD to HD was.
On the entertainment side, Rogers is starting with over 100 hours of 4K movies, series and TV shows on Shomi. Rogers has also signed a deal with Netflix around its expanding catalogue of 4K programming, which includes Marvel's Daredevil, Sense8 and Grace and Frankie. As part of the deal the Rogers network will directly connect  with Netflix servers, enabling faster set-up times and better image quality overall, according to a release. Netflix will also be available on select set-top boxes and Android devices from Rogers.

In addition to being more expensive to produce, the 4K tech also requires more bandwidth. In order to provide that, Rogers will be rolling out its Rogers Ignite Gigabit internet in downtown Toronto and the GTA later this year. By the end of 2016 the company will expand the service's availability to over four million homes.
Pricing for Rogers' new 4K set-top boxes will be announced in the coming weeks, says Laurence. Rogers Ignite Gigabit internet will be $149.99 a month.
Image: Guy Laurence introducing Rogers' 4K plans at the Rogers Centre in Toronto