Politicians weigh in on the CBC's fate
Focusing their comments largely on the pubcaster, Stephane Dion (LP) and Andrew Cash (NDP) discussed the future of the TV and digital industries at an event yesterday.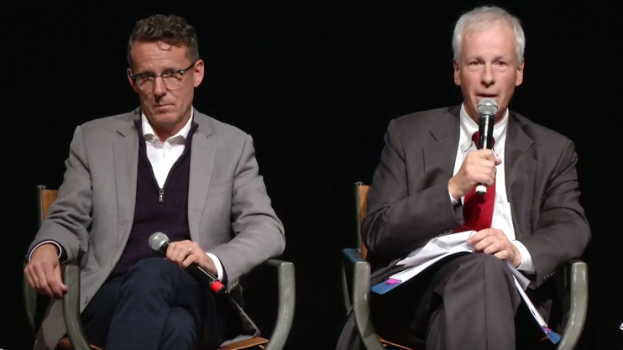 Conservative candidate Rick Dykstra didn't show up at an event yesterday, organized to give candidates from the three major parties a platform to discuss their party's vision for the future of screen-based industries. That wasn't a surprise and created an opportunity for the other two candidates – Andrew Cash (Davenport riding in Toronto) of the NDP and Stephane Dion (Saint-Laurent—Cartierville riding in Montreal) of the Liberal Party – who entertained the industry-heavy audience with a little "He-said, He-said" banter at the event thrown by the Director's Guild of Canada.
The event, which took place at the TIFF Bell Lightbox, and was moderated by veteran TV journalist Trina McQueen, showed both Liberal and NDP candidates focusing almost entirely on their commitment to the CBC, and pulling away from extended discussion on the digital revolution and over-the-top services.
Dion, who read mainly from pre-prepared notes, said the Conservative Party's treatment of the arts community has not only done "damage to the economy but also to our democracy." He reiterated the previously-announced Liberal Party's commitment to reverse the ruling-party's $115 million cutbacks at the CBC and add $35 million more to its coffers, in addition to setting up "stable, long-term, predictable funding." He also said that the CBC board should not be politicized.
Cash reiterated the NDP's promise to also reverse the funding cuts and also urged the importance of an independent CBC Board, one not filled with people whose only credentials, he said, was their allegiance to a political party.  He also reminded the audience not to forget past failures to protect the CBC, referencing over $400 million in funding cuts back in 1997 under the Liberal watch. "[The CBC] was cut down at the knees and it has barely recovered since then."
McQueen questioned both candidates about the datedness of the Broadcast Act of 1991 and whether it is relevant enough to encompass the needs of the digital age. Dion's view was that the principles of the Broadcast Act were strong and can be adapted when it comes up for statutory review in 2017. But both Dion and Cash said the imbalance between the world of the large BDUs and the small independent production companies was one of significant concern.
Framing his remarks around his personal experience as a musician, singer-songwriter and "occasional busboy," Cash said it was imperative to move away from the Conservative treatment of the art and culture worker community as "champagne-sipping debutantes" and to see this community as a vital engine of green economic (and creative) growth.
Dion urged for a more global attitude towards understanding how the Trans-Pacific Partnership affects the Canadian arts community. The Pacific trade agreement, gives Canada tariff-free access to about 800 million consumers across 11 countries, including Japan. With not enough information about the cultural objectives of the pact, Dion argued that Canadians need to think globally about the content they produce. "We are a trading nation…It is not enough to sell your products in Canada."