Astral's weather campaign wins the day
The OOH company was one of several winners across seven categories at the Ad Club of Toronto's annual Out of Home Showdown yesterday.
Although the 2015 OOH Day Out of Home Showdown was no blind-tiger event (Arcadian Court, three-course gourmet meal, a flowing bar), the speakeasy theme came to life under the noir, feather-donned stewardship of the event's host, Crystal Koskinen (pictured, right).
The event honoured the industry's best campaigns, judged by a panel of three – Jani Yates, president, Institute of Communication Agencies; Robert Bale, publisher, Adnews; and Sonia Carreno, president, Interactive Advertising Bureau of Canada. Judges pre-selected two top contenders for each category based on a number of criteria (use of the medium, innovation, impact, design, creativity, copy writing and memorability) and then scored each of those two on a scale of one to 10. The Showdown champion – Astral OOH for its Reno-Depot campaign – had the highest overall score.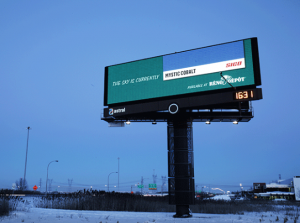 That campaign (with creative by Sid Lee) was to promote the Sico paint range at Quebec's Reno-Depot hardware stores. The outdoor billboard  had a built-in sensor that matched the colour of the sky with a shade from the Sico collection. The paint shade name was displayed on the board and changed each time the colour of the sky changed.
In addition to the Showdown champ, as well as honouring industry veteran John Jory with its second annual merit award, the Ad Club or Toronto also announced a host of other winning OOH campaigns in specific categories. Those included large format static or digital, street-level/transit and transportation, small format static or digital, experiential, non-traditional and multiplatform.
MEC's Geordie Anderson won the People's Choice award for buyer/planner, with Grassroots Advertising's John Labignan taking home the sales executive award.
The event's title sponsor was Zoom Active Lifestyle Marketing.
The following are the winners:
Showdown Champion
Astral Out of Home for its Reno-Depot: The Weather Presents campaign
Large Format Static or Digital
Astral Out of Home for the Reno-Depot campaign, The Weather Presents
(Booking Agency: Carat and Astral Out of Home; Buyer: Martin LeChasseure)
Street-level/Transit/Transportation
Pattison Outdoor for its Mad Jack premium Apple Lager campaign
(Booking Agency: MEC; Buyer: Sammy Rifai and Wes Wolch)
Small Format Static or Digital 
Astral Out of Home for its Ritz to Go campaign
(Booking Agency: Mediavest; Buyer: Jordan Lauper)
Experiential
Grassroots Advertising for its Toyota Corolla campaign – "A test drive like you've never seen before"
(Booking Agency: Saatchi & Saatchi; Buyer: Shannon Fitzpatrick)
Non-traditional
Grassroots Advertising for its Pompeii Exhibition Chalk Art campaign for the Royal Ontario Museum
(Booking Agency: BT/A Advertising; Buyer: Tori Laurence)
Multiplatform 
Clear Channel Canada for its Chatr: mobile airport campaign
(Booking Agency: OMD Canada; Buyer: Dane McBurnie)
People's Choice Awards
Buyer/Planner
Geordie Anderson of MEC
Sales Executive 
John Labignan of Grassroots Advertising
Merit Award
John Jory (retired), former president, Clear Channel Outdoor Canada