Creating a different kind of digital video player
Ryan Andal, partner at Secret Location, on the new app that brings channel surfing online.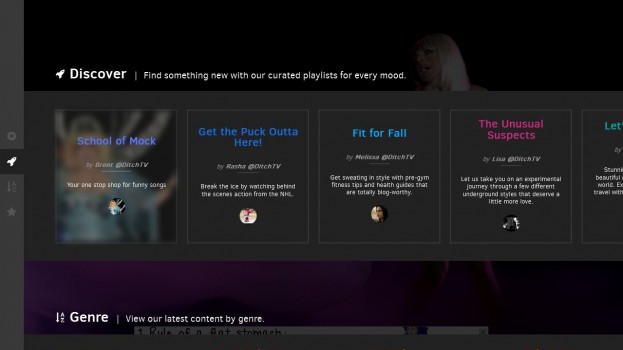 Lightbulb moments are often born out of frustration, and that's true of Secret Location's new online video player, DitchTV.
Annoyed at sitting down to watch something on Netflix only to be still looking at thumbnails and reading descriptions 45 minutes later, product creator and Secret Location partner and technical director Ryan Andal had an idea. He wanted to create a new site and app that combines the channel surfing and organic discovery of traditional TV with online content.
"I spent five days over the Christmas break trying to build a prototype for what I thought would be a good approach to an OTT network," he says. "And that's what DitchTV turned into."
The DitchTV app is now available on iOS and web, with an Android version coming soon. Rather than reading short descriptions and thumbnails, users choose content by selecting a human-curated channel like comedy, animation or music, and flipping through videos that are already a third of the way into the content in order to provide context in a quicker way.
The content curation will be handled by an eight-person team at Secret Location.
Andal likens the simplified model of the app to Tinder, saying "there isn't a lot of choice built in, either you like the person or you don't. I did a lot of testing on the [DitchTV] model, wanted it to feel like channel surfing where you can jump right into something."
Targeting adults 18 to 35 with a skew towards the upper part of the demo, Andal says he wants DitchTV to be more of a lean-back experience, showcasing less of the popular DIY videos YouTube is known for.
"One of the biggest compliments I can get is for people to say they didn't realize the content existed on YouTube," he says.
DitchTV won't be monetizing the user base, says Andal, rather splitting the model between placing branded content on its channels and syndicating other OTT channels on the app.
The company is initially promoting the app via social media and PR efforts.
DitchTV is the first of a few new product launches coming from Secret Location, which is aiming to evolve from its service-based roots to create more original work.