Programmatic ad spending to balloon in Canada: report
Despite a lag behind other countries, eMarketer predicts programmatic ad spend in Canada to hit $1.5 billion in 2017.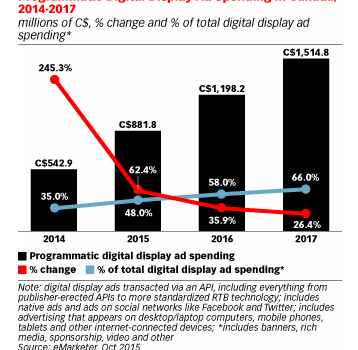 In its first comprehensive forecast of programmatic advertising spend in Canada, eMarketer sees a 62.4% year-over-year increase in digital display ad spend in Canada for 2015.
According to the researcher, 48% of total digital display will be spent on programmatic channels by the end of the year, reaching $882 million.
That total includes both API-driven spending on social media platforms and digital display ads bought through real-time bidding or programmatic direct methods.
The amount of programmatic spend is expected to move steadily northwards hitting $1.2 billion in 2016 and crossing the $1.5 billion mark in 2017. At the same time, the proportion of that amount that makes up the overall digital display spend will also increase from 48% in 2015 to 58% in 2016 and 66% in 2017.
Programmatic ad spending is expected to see a 104.4% rise in 2015, following a close-to 500% increase in programmatic spend in 2014.
The greatest increase over the next couple of years will be seen in mobile display spend. With just over 50% estimated to be spent on mobile display in 2015, eMarketer estimates that number will be about 73% in 2017. Conversely, desktop's share of the programmatic pie will shrink from 65.9% ($358 million) to 57.2% ($504 million) this year. That share is expected to continue to fall in 2017.
The current trend in Canada sees a cross-device campaign strategy emerging, according to Paul Briggs, an analyst with eMarketer. "Mobile will help engage the consumer initially, while desktop will play a key role toward converting engagement into purchase," he said in the report.
Canada's current programmatic ad spend falls behind a year behind that of the U.S. and the U.K. markets, which has less to do with marketers than with the fact that many publishers don't offer advertising inventory on programmatic. Canadian advertisers also remain concerned about ad fraud and transparency about ad delivery, according to Briggs.