HuffPost uses election day to launch HuffPost Live!
HuffPost Canada is using its online platform to live stream the election, with a novel behind-the-scenes newsroom view in partnership with Periscope.
HuffPost Canada is using the federal election as a perfect excuse to inaugurate its first-ever live-streaming event today.
As election night unfurls, Canadians will be able to catch live coverage – interspersed with expert analysis and special guest appearances – on the HuffPost Live! platform. The program is the first of its kind for HuffPost, which sees it as a second-screen experience for elections coverage, with viewers able to see behind-the-scenes coverage of its newsroom on Huffingtonpost.ca as well as on its mobile app.
The event has given HuffPost Canada the opportunity to make effective use of its new studio, which launched in June this year, says Kenny Yum, managing editor AOL Canada/HuffPost Canada. It also enabled the publisher to find ways to reach readers and viewers using a new tool that provides an alternative perspective.
The content (on-air hosts, HuffPost editors and special guests) will be filmed at the company's studios with an aim to keep readers up-to-date with information on the busiest political day in four years. In addition to the dotcom version of a live event, the behind-the-scenes view of the newsroom will be live on Periscope (see image, below right), the first execution of its kind.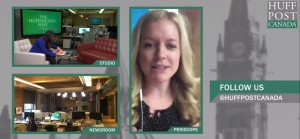 To that end, Yum says Periscope fulfills a different need and allows HuffPost Canada to interact with its audience. "It's a lot more informal than having a camera crew and gives us another lens…We're excited to experiment with something new. Being a Twitter product, its very much a live-event social platform." Based on how the execution works, HuffPost Canada will be looking at how it can effectively use the tool for other live events. 
The publisher will also be using social media platforms – Facebook, Instagram and Snapchat – to push out news alerts and other content.
The night's events will begin with a pre-show (with Periscope taking viewers into the newsroom) at 8 p.m. ET, with live-streaming to begin at 8:30 p.m.