Metro's 'Trend Report' a fusion of fashion and food
In partnership with Flare magazine, the Canadian grocer's new custom pub links the disparate worlds of fashion and food using a local approach.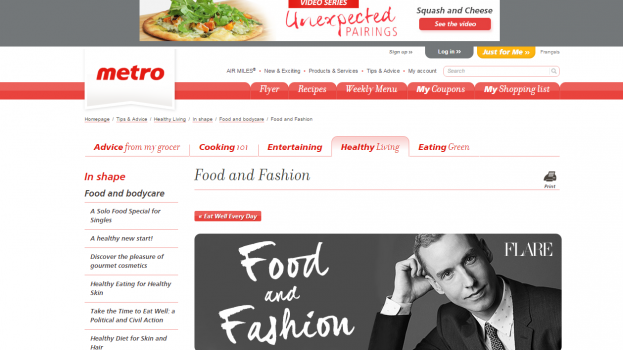 As a continuation of its partnership with Flare magazine, Metro Ontario has released its first Local Food & Fashion Trend Report, a collection of recipes that bring together some of Toronto's best in design with the city's storied celebrity chefs.
The dishes in the report were created by the chefs (Patrick Kriss, Justine Brady, Craig Wong and Nuit Regular) and inspired by couture from the designers' collections (Sid Neigum, Stephan Caras, Matthew Gallagher and NARCES).
The partnership with Flare was announced in March this year as part of the grocer's effort to initiate a more intimate connection with its customers and to reach a younger demo.
The Trend Report will be distributed at the World MasterCard Fashion Week. It will also be distributed in a Spring 2016 issue of Flare magazine and available online at Metro.ca.
As part of its strategy, the Montreal-based grocer, which has stores throughout Ontario and Quebec, is adopting a local approach to engaging with its customers with a strong focus on local food, talent and local communities. That strategy aims at developing an individual customer experience at each store, Nancy Modrcin, senior director, marketing for Metro Ontario, said in a press release.

To that end, the grocer has renovated some of its Toronto-area stores to make them more community friendly and more focused on specialized food programs. One examples is the Liberty Village store in Toronto, which features an on-site noodle bar, a premium pizza program and a fresh-squeezed juice space.
Those programs are created keeping local communities in mind, according to the grocer.