Spotted! Quebec Pork provides dinner inspiration
A transit campaign has new recipes going up in Montreal subway stations every week.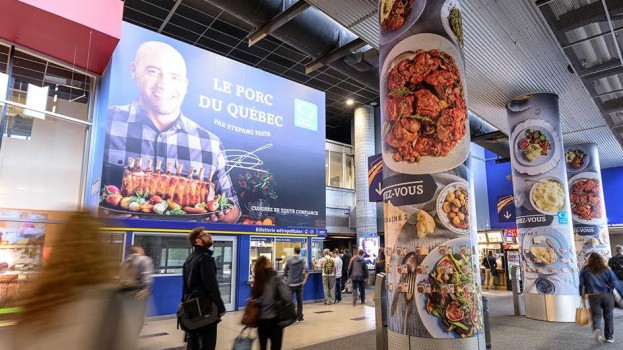 Aiming to have its products on the minds (and plates) of busy Montreal families, Quebec Pork introduced a new campaign this month to help commuters with their weeknight dinner plans.
Each week for the past month, the Lucien-L'Allier train station and Berri-UQAM metro station were outfitted with new creative and recipe cards for meals that included Quebec Pork. Recipes in the campaign were created by chef Stéfano Faita, who is also host of CBC's In the Kitchen with Stéfano Faita.
"Consumers think it's difficult to cook pork," said Valérie Jolivet, media planner, Carat, who handled media on the campaign. "We wanted to increase recall and perception. We want to be part of family's daily routine."
The campaign marks the first time the client had used OOH, introducing the new platform to the media mix because it was seen as the best way to reach Quebec Pork's new target of middle-class families on the go, said Jolivet. Lg2 did the creative, with OOH partners Astral and Cogeco arranging the placements. Prior to this campaign, Quebec Pork had been targeting foodies, but expanded that in order to increase reach.

"We wanted to reach people on their way back home – mostly families living in the suburbs," said Danielle Vaillant, marketing director, Quebec Hog Farmers. "On the way home, people are thinking about the dinner they are going to cook and we wanted to make their life easier with simple recipes over a period of four weeks."