Postmedia looks to corner content marketing
With the launch of Postmedia Content Works, the company looks to expand its footprint outside its core business.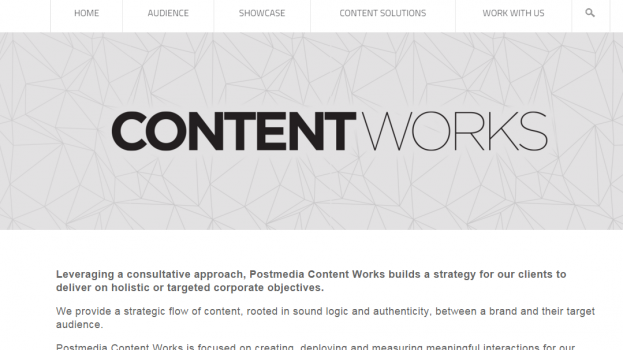 Looking to position itself as a leader in the content marketing space, Postmedia has created a new unit to develop and deploy content for marketers outside its legacy business. The publisher has amalgamated its custom content development units into a consolidated whole with the launch of Postmedia Content Works.
The new entity combines Postmedia Works, Postmedia Labs and Infomarts to give marketers a single source for creating content, deploying it both within the Postmedia national network and outside, and evaluating the impact of that deployment through its measurement platform.
The holistic unit is part of Postmedia's play to expand outside of its core business by positioning its content expertise for brands both on and off its network. Through the new entity, the publisher hopes to draw in marketers looking to use its licensed content or to create bespoke content for its own channels, including websites, newsletter, internal communications and social marketing. 
The launch of Postmedia Content Works signals the importance of audience engagement for brands as much as for legacy media. The company, which has been struggling to battle a string of quarterly losses from dips in advertiser revenue and subscriptions from its traditional brands, has been working to develop a sounder relationship with advertisers.
In September, it integrated Freckle IoT's beacon tech software into its mobile apps across all its publisher brands, to give marketers access to location data collected from consumer mobiles that gives marketers a better understanding of their customer base. Earlier this year in April it launched Postmedia Content Solutions, a native advertising platform that it developed in partnership with Toronto-based native advertising company Polar Media Group.
The move to launch Postmedia Content Works, according to Yuri Machado, SVP, Postmedia Content Works, confirms the changing nature of brand storytelling and is positioned to grow the publisher's business. "We're building opportunities outside the Postmedia network and we will now develop off-network strategies to help power content for customers into marketer's channels."
The publisher is working with a few clients as it tests the new entity and will soon announce its first batch of partners. Currently in beta is also a newsletter product called Newsletter Plus, which creates newsletters and adapts design and content to suit a client's needs. In addition to creating bespoke content, Content Works also has a team of content providers (journalists, videographers, bloggers) who can be deployed to produce content specifically for a marketer. Its community engagement team will focus on finding influencers in the community that can enhance a brand's engagement with consumers through its specialized community like Everywhere for fashion and Capital Ideas for business. 
The publisher is currently working on enhancing its suite of tech offerings to provide clients with a pipeline that is able to seamlessly transfer materials from its lab into a client's channels.