Zenith recognized by Companies Committed to Kids
The unique industry-wide collaborative body focused on the health and welfare of Canadian children celebrated its 25th anniversary yesterday.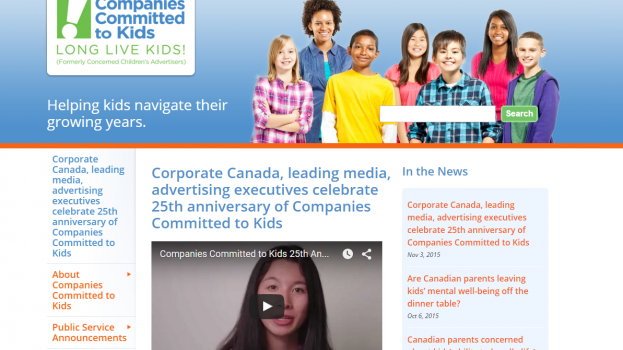 Companies Committed to Kids awarded Zenith Optimedia with its first-ever leadership award at the organization's 25th anniversary event yesterday.
The non-profit organization was founded in 1990 by former ZO CEO Sunni Boot and former Global TV president David Mintz as a collaborative industry-wide body committed to developing campaigns and messaging targeting children between the ages of eight and 12. Prior to undergoing a rebranding, it was known as Concerned Children's Advertisers.
In 2014 CCK received about $4 million of pro-bono airtime from its member media companies allowing it to spread messaging around its current theme in focus: mental health and bullying. Over the past 25 years, the organization estimates having received $50 million in donated media, $5 million in donated production services and 10,000 hours donated by the industry's marketing minds.  
At the event CCK christened two new awards, the Sunni Boot Leadership Award and the David Mintz Visionary Award. The former went to Zenith Optimedia for its support with media planning and strategizing, with the Mintz award being shared by its outgoing chair of 10 years Craig Hutchison and founding CCK president Cathy Loblaw.
CCK's member partners include 17 media companies, marketers and agencies including Bell Media, Corus Entertainment, Shaw Media, McDonalds, Mondelez Canada and PepsiCo.
Its campaigns, which include public service messages delivered across all media platforms through donated media buys, have generated 3.9 billion advertising impressions with adults and 2.2 billion advertising impressions with kids over a 25-year period.  In the past, those messages have aired during primetime, including during major events like the 2010 Winter Olympic games and the most recent Super Bowl.
In addition, its educator materials have been accessed by about 800,000 children and 26,000 educators over time.
The partnership is a unique industry-wide collaboration, says Bev Deeth, president of CCK. "This is a Canadian-made model of corporate social responsibility; there's nothing else like it in North America."
In addition to developing campaigns every other year, the organization also works with experts, psychologists and foundations to stay current with research on children's issues. Its focus over the years has been on improving the social, emotional, physical and mental well-being of Canadian children with industry stakeholders participating fully in creating the message, developing the creative, strategizing the "buy" and pushing it out on media platforms. Issues that it has taken on include mental wellness, self esteem, drug abuse, healthy active living, child safety, role modelling, media literacy and bullying.
Over the years the organization has shifted its focus from advertising messages only in kids programming to also targeting adults. It has also developed a research report, a kind of state-of-the-Canadian-child report and provides parental, teaching and child-friendly resources on its site. 
The Sunni Boot Leadership Award as well as the David Mintz Visionary Award will be announced every other year from now on.