The age of the smartphone
With Canadians spending seven million hours on apps each month, Yahoo Canada's latest report shows how, where and when.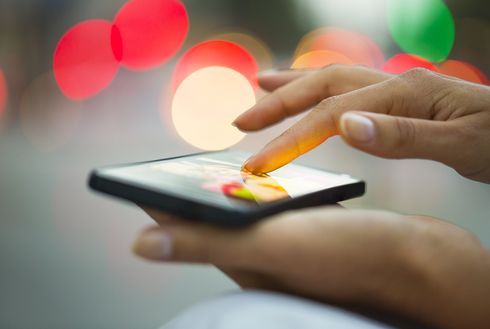 If you didn't already know that mobile is where the conversation is at, a new study confirms it.
As part of its Talking Mobile focus, Yahoo has released two reports demonstrating the global rise of the smartphone ("The Shift to Smartphone Dominance") and matching those results with a report, "A Day in the Life of a Mobile App User in Canada."
The global report, which was released this morning and was based on research conducted in U.S., German, French and U.K. markets, is an analysis of responses by 18 to 64 year olds to a 30-minute online survey in January 2015.
As the global report shows growth of smartphone penetration, Yahoo's Canada report, too, shows that users turn to apps during the primetime period (7 to 10 p.m.) with messaging , social and games leading the app pack and health, fitness and sports apps having the highest growth.
There was a 13% increase in smartphone users between 2014 and 2015, with nearly three in four users going online via mobile phones. Canadian users spent seven million hours on apps every month.
The two reports combine to show what categories users consume in-app as well as when they consume it, explains Christina Choy, market research manager at Yahoo. "With this study what we are able to do is look at spikes in actual behaviour with behaviour tracking."
The global report owes the reason for rapid adoption of the smartphone being an adequate substitute for multiple products (radios, CD/MP players, TV, phones, personal computers) and it predicts a "smartphone dominant" future for many consumers. The report defines smartphone-dominant users by three traits: mobile-first, mobile-lead and mobile-immersed. That user has largely replaced his or her PC with a smartphone, spends 75% of their online time on a mobile device and 50% more time versus an average smartphone owner and does 50% more activities on a mobile device.
The global report's results align well with Yahoo's Canada report, which is based on data from its Flurry analytics platform. That data from Flurry's database, which accesses 37 million devices across the country and looks at app usage across 146,000 apps available in Canada, shows that Canadians over-index in fitness and sports app growth, registering a 140% year-on-year growth in usage of health and fitness apps and an 88% year-on-year growth in usage of sports apps. Conversely, Canadian users under-index in the lifestyle and shopping category, which saw a 3% reduction in growth between 2014 and 2015, compared with a global growth rate of 143% for that same period.
One of the most interesting parts of the Canadian study is the breakout of usage by demo. As it turns out, boomers (55+ age category) spend the most time on game apps, cornering 44% of the game app sessions and staying relevant with 25%  of the news and magazines market. That figure, however, covers in-app games and not the off-app gaming market in the social space or off-mobile through gaming stations, explains Shannon Kelley, market research analyst at Yahoo.
Teens are the most connected on messaging and social and music, media and entertainment apps. That trend continues for younger millennials (18 to 24) who are also responsible for 26% of the time spent on lifestyle and shopping apps. Health and fitness apps dominate for older millennials (25 to 34), with 37% of in-app time coming from this demo, while Gen X (35 to 54) users are the most engaged users across categories spending time across sports, utilities and productive, news and magazines and lifestyle and shopping.
In addition to a by-demo breakout, the report also looks at when mobile users are most active. Primetime for mobile users across ages tends to be between 7 and 10 p.m. Most demos focus on one category during their day, with Gen X users connecting with their news apps in the morning, lifestyle and shopping apps in the evening and sports apps during primetime.
Yahoo's global report shows that 88% of digital time is spend on apps, with 57% of respondents preferring apps over mobile websites and 60% wanting an in-app experience from mobile websites.
Smartphone domination is partly attributed to the growth in screen size enhancing the user's visual experience. It is also a result of improved data and internet capabilities and better apps, according to the report. Also, users reported replacing older apps with ones that have task-based features. 
The development of larger screens, better cross-screen experiences and users adapting to changes in app technology are expected to continue the trend towards smartphone domination.