Postmedia's free daily rebrands
The publisher's latest rebranding is of the free Toronto daily, with Ripley's Aquarium of Canada as launch sponsor.
The latest product in the Postmedia national rebranding exercise is live. The media company has relaunched its free news daily.
Previously known as 24 Hrs, the rebranded version has a new name: 24 Hours Toronto. That rebrand, which targets 25 to 45 year olds, includes a new website since the previous incarnation of the publication only issued a five-day e-edition. The new 24 Hours Toronto will no longer repackage news stories from the Toronto Sun. Instead, the publication now has a dedicated news team that will develop content with a heavier focus on Toronto's entertainment, while providing city-related news as well.
Postmedia's exclusive deal with Gateway Newsstands in July 2015 saw Metro losing its 15-year presence on the company's newsstands. Thanks to that deal, 24 Hours Toronto will be distributed across 90 TTC and Go transit locations, the Path system and on Gateway Newsstands. In addition to local news, the publication will cover Toronto's club scene, music and concerts, info on transit, as well as reviews of local places and things to do.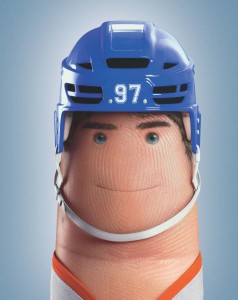 The rebranding is part of a national rebranding, in which Postmedia is wooing readers for all its local brands through its "at your fingertips" campaign. In that campaign local personalities are dressed up as fingers (see image, right, from the Edmonton Journal campaign) to represent their publication's know how of local culture, news and trends. Along with re-branding, Postmedia also launched its own native advertising platform, and reported a boost in digital advertising at the start of this calendar year.
The refreshed version of the 24 Hours Toronto is built to also give advertisers more opportunities to align their products and services. "The new 24 Hours Toronto offers advertisers the perfect avenue to influence the often tough to reach younger demographic and makes the website a dynamic news source for what's trendy, cool and happening in and around Toronto," according to Mike Power, SVP, Postmedia, in a press release. 
The paper's relaunch is being accompanied by a multi-media campaign that can be seen in out-of-home, with TV and radio spots as well. The relaunch's sponsor is Ripley's Aquarium of Canada. Its ads can be see in three places on the print issue of the distributed paper: on the front cover wrap, the inside front cover wrap and also on the back cover.
There is also a contest under way, with the chief sponsor providing prizes to the winners of a social campaign; readers have to take their selfie with a copy of the new issue and post it using the hashtag #24HoursTO. Postmedia is also running a branded hawking program through this week every morning between 6:30 a.m. and 9:30 a.m. at select locations.
In September Postmedia rebranded the Edmonton Journal. In October the Windsor Star rebranded with the same "at your fingertips" campaign.