Canada Goose's cinematic journey
How the brand has tapped Canadian film talent for its latest content strategy.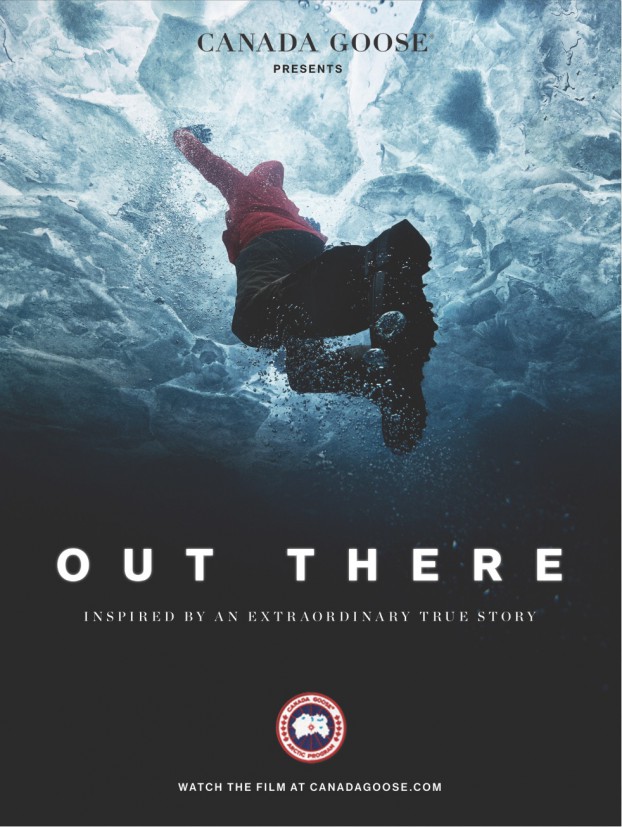 Canada Goose is continuing its content-heavy, emotional approach with a new short film and global brand campaign.
"Out There," a five-minute film directed by Canadian filmmaker Paul Haggis, tells the story of the 60-year-old brand and some of the adventurers who have donned the iconic coats.
"Our brand is so rich in these epic adventures that to be able to tell it in film with sound and motion…makes a lot of sense," says Kevin Spreekmeester, Canada Goose's CMO.
The film will be running on the Canada Goose website and on YouTube, with 70% of the buy digital. The campaign will be rounded out mainly with an OOH buy featuring the film's poster (pictured, above), shot by Canadian photographer Joey Lawrence (known as Joey L.) in major cities in Europe and the U.S., including London, Paris, Boston, New York and San Francisco. In some London and Paris train stations, the film's trailer will also be playing.
In addition, the brand will be executing guerrilla screenings of the film, projecting it without permission in public, including at iconic buildings in Europe, Spreekmeester says. It has even set aside a budget for potential fines, he adds.
Those tactics, however, won't be used in the Canadian market, where the brand already has strong recognition, and where people know how and where to purchase the coats. Here, the campaign will be focused on digital and social media.
Canada Goose doesn't share its specific target because of competitive reasons, but generally, it's after 20- to 40-year-old consumers who are overall well-heeled and well-educated. Mainly, though, it's looking to share its brand story with people who don't already know it. "We feel like we've got a lot of walking billboards [in Canada] as it is," Spreekmeester says. "The emphasis on media placement had to be in places where people don't know us."
Canada Goose's global AOR, Creative Artists Agency, led the new campaign, with Huge on the media buy. In Canada, PR is being led by North Strategic, with other local agencies taking on that work elsewhere.
As the brand has experienced tremendous growth – 4,000% over the past 10 years – it's had to shifts its marketing strategy. "When we were smaller, we could maintain a one-to-one dialogue and very niche, guerrilla tactical efforts and it worked really, really well," Spreekmeester says.
But now, it needs to connect with people on a larger level, sharing its brand history. Last fall, the brand worked with North Strategic's video arm Notch Video on a spot showing one of its coats blown up in reverse (with the filling going back into the item), an effort to highlight the piece's craftsmanship. It also teamed up with Danish filmmaker Daniel Kragh-Jacobsen and Publicis London on a brand campaign targeted at the Scandinavian market.
"Consumers today want to know more about a brand, they want a deeper understanding of why they're investing," Spreekmeester says. "When they buy a luxury product, they want to know that it's not just something thrown up on a shelf, that there's meaning behind it."