Glow's shiny new rebrand
The Shoppers Drug Mart beauty pub puts a focus on bite-sized shareable content and a mobile-first approach for its online presence.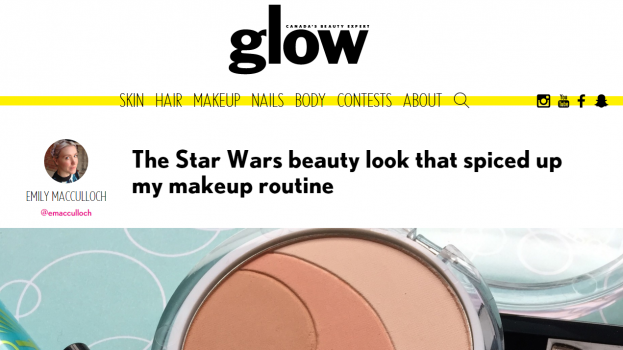 The 34-year-old Shoppers Drug Mart publication that has graced its racks and inspired many to browse through its aisles has rebranded to show off its new shine.
The retailer's national magazine Glow has refreshed with a new palette of colours (cyan, yellow and magenta) and editorial that matches the needs of its busy, on-the-move customers.
The new Glow, which is published by St. Joseph Communications, debuted on Shoppers' newsstands with its September issue, offering more short-form content including facts, beauty tips and information about products. The new magazine has a more intimate tone across its sections. New or improved sections include Beauty Crush (influencer profiles), Beauty Confession (editor-led first-person stories), Beauty Well (runway-inspired "beauty moods") and Body Talk, which focuses on health and fitness-related issues.
The redesign also extends to the magazine's website that now has a fresher look, as well as more easily shareable content with in-stream billboard, landscape and interactive ad units that can be re-sized for viewing on mobile. Native ads and advertorials can be more seamlessly integrated into the magazine's content both in print and online.
The new look and style of the publication was a response to changing times and the way its audience consumes information, says Shelagh Stoneham, SVP, marketing at Shoppers Drug Mart. "As consumers evolved, so needed the publisher in order to embrace the Glow reader's lifestyle."
That lifestyle, says Stoneham, demands information delivered in short, quick bursts. Both the print version and the website offer easy access to bite-sized information. "The women we target are really busy but they are looking to be healthy, they have a variety of interests and they want to be inspired in a way that fits their lifestyle while they are on the go." The publisher hopes that the bite-sized information, which can be shared more easily, will also generate social conversations among its readers.
To that end, the rebranded website has a mobile-first design to connect readers across its social platforms on Facebook, YouTube, Instagram and Snapchat. In addition, the new website's photography is shot with a more gritty style to differentiate it from the shoppable content on the site.
Glow costs $3.99 on the newsstand.